Three students from the Anna Regina Multilateral School have snagged the highest number of grade ones at this year's Caribbean Secondary Certificate Examinations and appear to be in the running for the top performer prize.
In releasing preliminary results today, the Ministry of Education announced that Ramool Baboolall of the Anna Regina Multilateral School wrote 27 subjects and gained 24 grade ones along with three grade twos.
His schoolmate, Uotam Heeralall who wrote 25 subjects, also gained 24 grade ones but with 1 grade two.
Another Anna Regina Multilateral student, Daniel Dowding also wrote 25 subjects and he gained 22 grade ones and 3 grade twos.
The Minister of Education Priya Manickchand announced that a total of 28 students from various high schools attained Grade one passes in 12 or more subjects.
"The person who gets the most outstanding award either in the country or in the region is dependent on more than just the highest number of ones. It is dependent on a combination of subjects and I want you to remember that", Education Minister Priya Manickchand stated.
Today's official announcement of the CXC results took place in Anna Regina and while the Education Minister stated clearly that a top student is still to be determined, it was noted that some of the traditional top schools in the country are no longer holding on to the top student position.
"Within the next 10 days, we will announce the NGSA (common entrance) results and everybody, a lot of people aim for schools that society and we, have traditionally said are the best schools. And I want you to remember when those results are announced that any school could be a good school. What we require is good teaching, parental support and interest from the students and we will make you a top school, we are working extremely hard to make every school equal and with every school having the same resources", the Minister said.
It was announced today that Guyanese students have performed better in the examinations when compared to the previous year.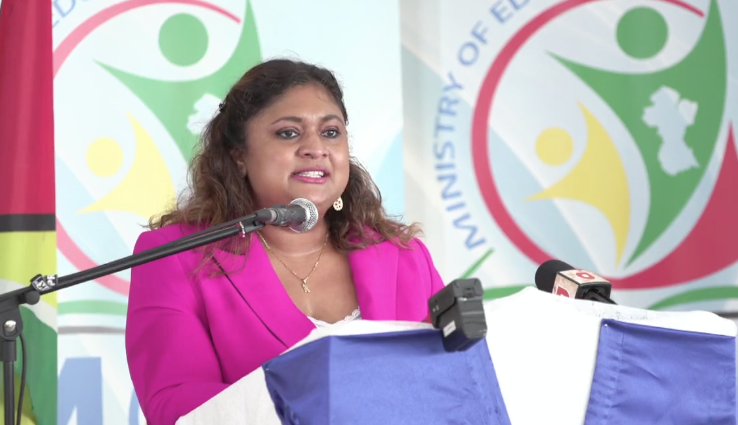 At the CSEC examination, the overall pass rate moved from 66.3% in 2021 to 68.5% this year. Additionally, there was an increase in individual subject performances in more than 20 subjects including English Language and Mathematics, although the overall pass rate for Mathematics remains below 40%.
Chief Education Officer, Dr. Marcel Hudson said the trend is moving in the right direction, as he noted the improvements in a number of subject areas. He said all stakeholders need to work closer to ensure the Education sector continues to produce improved results.
"This is a sector that requires all of us to work together", he said.
Meanwhile at the Caribbean Advanced Proficiency Examinations (CAPE), Queen's College student Bhedesh Persaud is the top performer, having gained 14 Grade one passes and one grade two.
Last year, he was the top performing student at CSEC with 22 grade ones and 1 grade two.
The Ministry of Education has announced that students across the country will be able to access their results at both the CAPE and CSEC levels this evening via the CXC portal. However, students are being reminded that the results are preliminary. The Education Minister has stated that her Ministry has already had to question CXC about some students, including top students, being marked ungraded for some subject areas. She said CXC is in the process of making corrections.