-by Kurt Campbell-
The United Kingdom has pledged new support to the Government of Guyana to reform the Prison Service under the current multimillion-dollar Security Sector Reform Action Plan (SSRAP).
British High Commissioner to Guyana, Greg Quinn said on Thursday that as a result of the recent incidents at the Georgetown Prison, the United Kingdom is now looking to extend its security assistance to directly include the Prison Service.
Already a report has been submitted by British Senior Security Sector Reform Advisor, Mr. Russell Combe which outlines various types of training activities for the Guyana Police Force.
Quinn said although the assistance initially targeted the police, the UK intends to start work with the Prison Service and expects work to begin in this regard when Combe returns from leave.
"There is an increased importance on how we can assist the Prison Service after the events at Camp Street. The report he [Combe] submitted focusses on the initial findings on the processes and procedures across the police force," Quinn explained.
Recently, fiery riots by inmates, led to the destruction of most of the Camp Street Prison and aided in the escape of several high-profile convicts, some of whom are still at large.
High Commissioner Quinn said the assistance currently being provided to the police force stretches over to other connected agencies like the prison service and allows for other agencies to benefit broadly.
Commenting directly on the problems at hand, Mr. Quinn said, "The fundamental problem I think is that prisoners are on remand for longer periods than the sentence they could receive for the crime."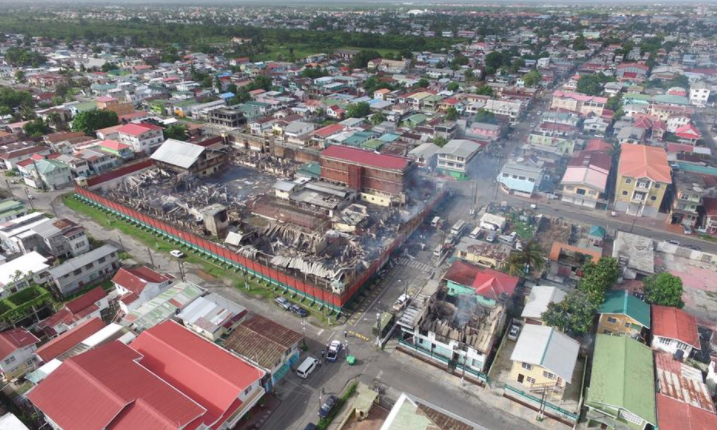 He said the prison service was being held hostage by other parts of the system and later explained, "The prison service doesn't get to decide who is held in its prisons. The judiciary has a role to play so that you don't have remand prisoners in the jail for long periods and I would suggest non-custodial sentences […] but it's up to government, society, and NGOS to have discussions about non-custodial sentences. Judges also have to abide by the laws they have to work with […] the rest of the system has to work with the prison service."
He surmised that there was definitely need for reform that will speed up the judicial process and look at alternative sentencing.
"A lot of where the UK would lend help would address overcrowding," Quinn said while lauding the government's move to expand the Mazaruni Prison and ensure that convicted prisoners are separated from remand prisoners.
The British High Commissioner said the government has not asked for specific help for rebuilding the Camp Street Facility, noting that the UK's infrastructural assistance has always focused on other forms of public infrastructure like roads and bridges.