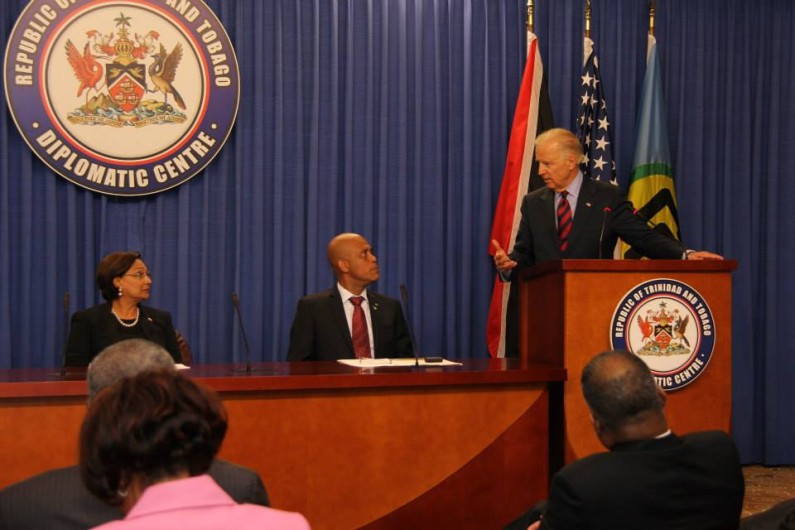 U.S Vice President Joe Biden during his meeting with CARICOM Heads of Government in Port of Spain, Trinidad and Tobago was told that the region continues to face major problems in tackling crime and there is a need for regional governments to be supplied with more information about criminal deportees.
Trinidad's Prime Minister Kamla Persad-Bissessar who is the lead CARICOM Head of Government for Security matters told the meeting on Tuesday that "there should be an increased focus placed on improved information and intelligence sharing with respect to criminal deportees, in particular access to complete dossiers on medical and criminal history."
Caribbean Governments have been complaining for years about the large number of persons who are deported to the region every year by the United States. The U.S has supported re integration programmes in some states.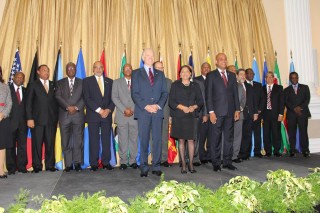 Prime Minister Persad-Bissessar also called for more assistance in tracking the influx of illegal firearms in the region. She explained that 70% of homicides in the region are committed with illegal guns. The Prime Minister however, thanked the US Government for its commitment to the Caribbean Basin Security Initiative which she said has been playing a key role in assisting the region to take better control of the crime situation.
The US Vice President was told of regional efforts to tackle several crime problems including narco trafficking and the illegal gun trade. CARICOM Heads of Government have already adopted the  CARICOM Crime and Security Strategy (CCSS) with the goal 'to significantly improve citizen security by creating a safe, just and free Community, while simultaneously improving the economic viability of the Region'.
According to the Trinidadian Prime Minister, "the CCSS represents a historic milestone that marks the beginning of a new era in efforts to consolidate the Community as a secure Region in terms of peace, freedom, democracy, and development through a coordinated and integrated approach".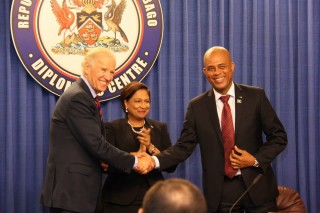 Vice President Biden told the meeting that both the United States and the Caribbean region ought to be prepared to take on drug trafficking and gun smuggling more. He said "we know that as other nations in the hemisphere make strides against drug trafficking, the threat as I said may increasingly shift back toward the Caribbean." Vice President Biden gave the assurance that the U.S will continue to lend assistance to the region.
The one day meeting with CARICOM Heads of Government was also used to discuss trade and investment opportunities and a new trade pact between the U.S and CARICOM was signed.