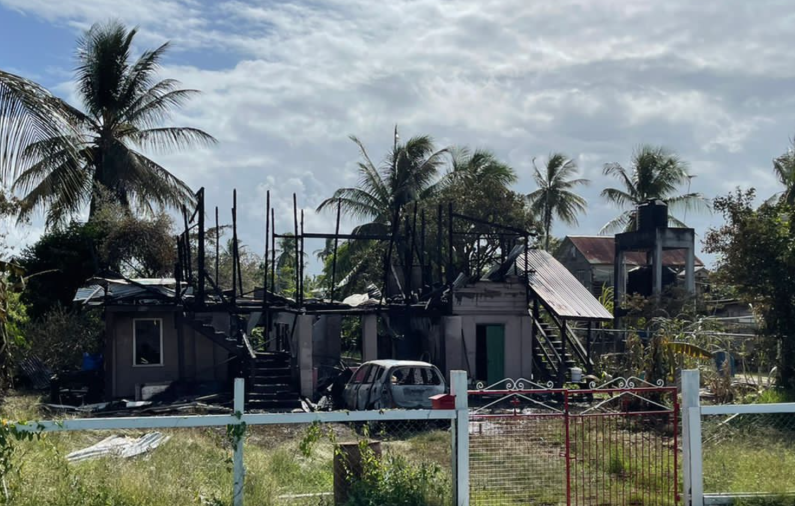 Three fires on Christmas day in three parts of the country have left a total of 13 people homeless, according to the Guyana Fire Service.
In Georgetown, an early Christmas morning fire at Rose Street, West Ruimveldt gutted a one flat concrete building occupied by a family of four.
The Fire Service said the suspected cause of the fire was a lit mosquito coil that was left close to a window curtain.  The fire caught onto the window curtain and quickly spread throughout the home. The entire building was gutted.
On Christmas afternoon, firemen were called to the scene of a blaze in Ankerville, Port Mourant after receiving reports of a two-story wooden house being on fire.
The fire quickly spread throughout the wooden building and gutted it completely, leaving a family of five homeless.
In the same area, two other houses were affected by the fire, destroying parts of the two buildings. A cause of the fire is still to be ascertained.
On Christmas night, the fire service was summoned to Company Road, Friendship on the East Coast of Demerara where there was a fire at a two-story concrete and wooden building. The fire quickly engulfed the entire building, leaving four persons homeless.
The Fire Service has determined that an overloaded electrical circuit that ignited combustible materials was responsible for the blaze.
The GFS is urging citizens to be extra careful during the holiday season and to take the necessary precautions to avoid these tragedies.
Persons are reminded to unplug appliances, not in use and keep lamps and lights away from curtains and other materials that may be easy to ignite.