Minister within the Ministry of Public Infrastructure, Annette Ferguson this morning told media operatives that the Demerara Harbour Bridge Toll Fees have been raised in order that the corporation becomes self sustainable.
She noted that since it's establishment, the bridge has served as a critical link between West Demerara and East Demerara. She pointed out that the harbour bridge is a daily fixture for most Guyanese as the bridge allows persons to travel for various reasons.
The Minister continued that over the years, vehicular traffic has significantly increased among certain types of vehicles which is a mitigating factor for the raise in tolls.
She listed some statistics and compared the months of January, 2009, where 75,000 trips were made by private vehicles, while in August, 2016, a whopping 163,000 trips were recorded.
Minister Ferguson stated that the significant increase among vehicles over the years has meant increased traffic congestion and increased wear and tear to the bridge.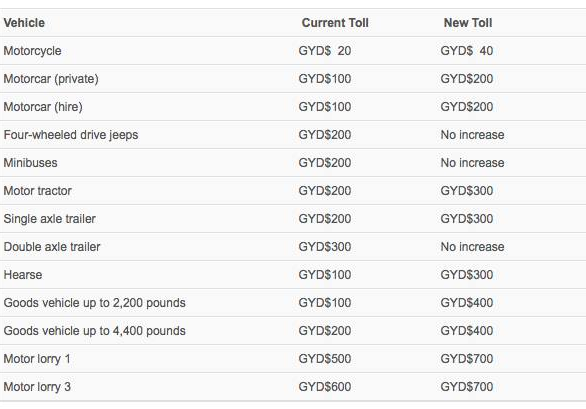 She listed figures of $489 million that the bridge hauled in each year from 2008-2016 while noting that expenditure was $109 million for maintenance and other works.
She also pointed out that without subventions, the bridge would be in limbo.
With the restructured toll fees, the projected revenue for 2017 would lead to an income $861 Million, this increase she noted is important because it means that the corporation would now have more funds for operations and maintenance, hence the need for government subventions would be negated. Simply put, "the Bridge will support itself."
She concluded that it is "necessary" that the revised toll structure reflects the development we see in our society.
Despite the changes in the toll structure, costs for Minibuses remain the same, so there should be no increase in passenger fares for the respective routes leading to and from the bridge.