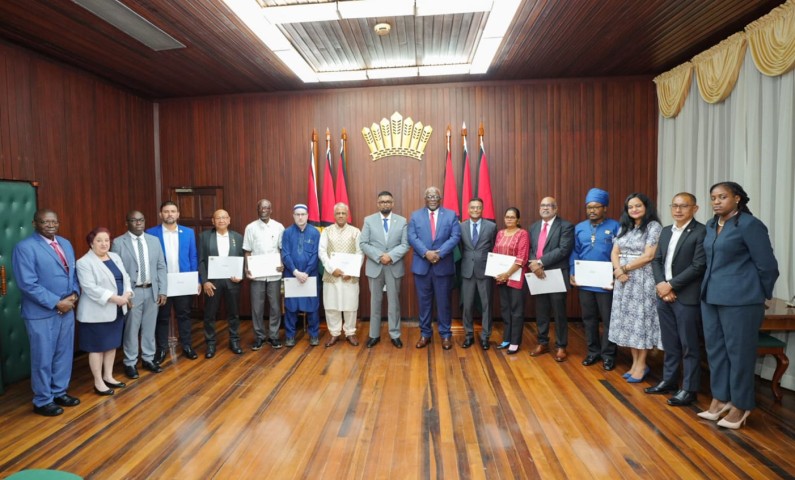 Eight members of the Ethnic Relations Commission (ERC) were sworn-in by President Irfaan Ali today.
Representative of the Hindu community, Pandit Krishna Sharma; Trade Unionist, Norris Witter; Private Sector Representative, Charles Ogle; Youth Representative, Dwayne Adams; Representative of Women Organisations, Chandrowtie Sarran; Indigenous Representative, Ashton Simon; Deon Dick, a representative of Afro-Guyanese groups and Neaz Subhan, the representative of Indo-Guyanese organizations took their oaths of office during the ceremony today, which coincided with the International Day for the Elimination of Racial Discrimination.
The two other members of the Commission will be sworn-in at a later date.
In his address, President Irfaan Ali said the Government remains committed to the process of eliminating all forms of racial discrimination, and will ensure those guilty of fostering animosity are held accountable.
"We work daily, long and hard through our 'One Guyana' initiative to promote equality, compassion, opportunities and stability for the advancement of all Guyanese. We take seriously any attempts to instigate racial animosity and racial violence within our country. We severely condemn attempts that provoke racial conflict in our society, and will ensure that those guilty are subjected to the sanctions imposed by law," the Head of State said.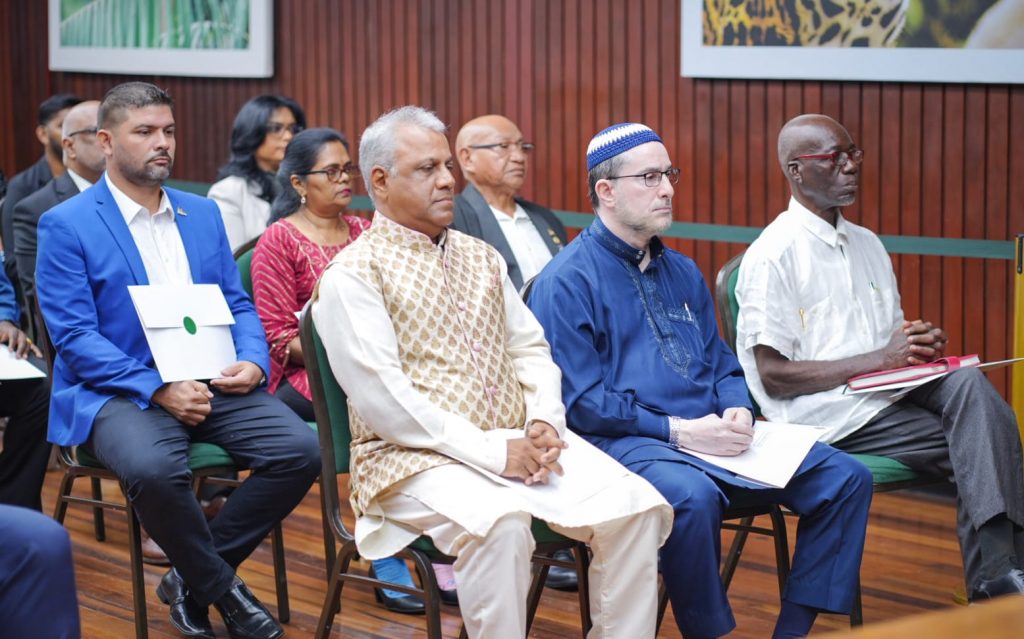 He said as the world observes International Day for the Elimination of Racial Discrimination, Guyanese must reject racially laced rhetoric, and not be misled by those who use race and ethnicity to stoke divisions and hatred in society.
"I continue to urge all Guyanese to refute every tongue that utters threats and instigates hatred, in so doing, we will ensure that no weapon aimed at dividing our people and pitting any segment against another shall prosper," the President said.
In congratulating the Commissioners on their appointment, Mr. Ali said the Commission can play a pivotal role in identifying and addressing ethnic discrimination, and making recommendations for eliminating racial discord in society.
The appointment of the members of the Ethnic Relations Commission comes months after the nominations were adopted by the National Assembly following extensive consultation between the Parliamentary Committee of Appointments and a number of stakeholders.
As a constitutional body, the ERC is mandated to promote harmony and good relations among all Guyanese.