(Trinidad Guardian) The People's National Movement (PNM) has extended condolences to the wife and children of former party leader and prime minister Patrick Manning, following the announcement of his death at 8.15 AM this morning.
In a release on social media, newly-appointed Public Relations Officer (PRO) Stuart Young said: "It was with a great sense of sadness that the PNM Family had been informed of Manning's death."
He expressed sincere and heartfelt condolences to Manning's wife, Hazel, their children and wider family on behalf of the party executive.
"Mr Manning served Trinidad and Tobago for decades as a leader with great vision and his passing is a loss to the Nation and to his party, the PNM. We join in prayer for his soul and his family and thank him and his family for his life and his invaluable contributions.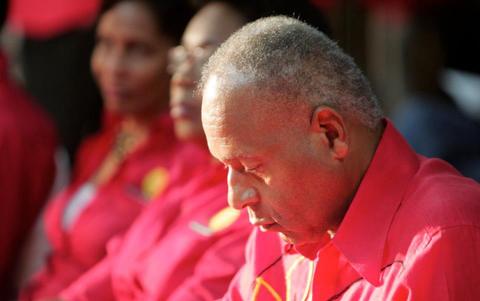 "We ask that God rest and bless Mr Manning's soul," Young said.
Manning's body was transported from the back entrance of the San Fernando General Hospital at 10.15 am and taken to Belgrove's Funeral Home on Coffee Street.
Deputy political leader, Joan Yuille -Williams, who was among those gathered at the hospital this morning, said the country and party had lost a father and a visionary.
San Fernando East MP Randall Mitchell was one of several MPs to post tributes on social media, following the death of former prime minister and political leader of the People's National Movement, Patrick Augustus Mervyn Manning.
Manning was the MP for the San Fernando East constituency since 1971, and won the seat in 10 general elections, until Mitchell succeeded him in 2015.
On his page this morning, Mitchell said the country should be comforted in this time of solace, knowing that Manning was surrounded by his family and loved ones.
"Mr. Manning served the people of San Fernando East with great distinction for 45 years, and an honour befitting his life of great vision, aspirations and achievements that have propelled Trinidad and Tobago forward will be forthcoming," Mitchell said.
Opposition Leader Kamla Persad-Bissessar also shared condolences on social media, noting Manning's passing with "deep sadness."
"On behalf all in the Parliamentary Opposition and the United National Congress, we send our heartfelt sympathies and prayers to his wife, Hazel, and his sons and close relatives.
"Mr Manning was Prime Minister by electoral victory three times in our history—1995, 2002 and 2007. He is also our longest serving Parliamentarian and one of the longest serving public servants in the region."
She said the grief shared at his passing was, without doubt, grief that will be shared by fellow nations in the region.
"We wish the Mannings God's guidance and support and pray that the former Prime Minister will find a place of joy and rest," Persad-Bissessar said.
Tourism Minister Shamfa Cudjoe described Manning as a political paragon.
"Mr. Manning's mortal body is survived by his immortal legacy. Thank you Jehovah for gifting this country through the life and works of Mr. Patrick Mervyn Augustus Manning."
Manning was born in San Fernando in 1946, and attended primary and secondary education in South Trinidad, before gaining his B.Sc. Degree (Special Honours) in Geology at the University of the West Indies, Mona, Jamaica.
Mr. Manning entered politics in 1971 at age 24, as the People's National Movement (PNM) candidate for San Fernando East, emerging victorious in the General Election of that year. He has won this seat in every General Election since, totaling ten contests.
Manning became a full-fledged Minister in 1981 holding the Industry and Commerce, and Information portfolios, then Energy and Natural Resources.
When the PNM lost the General Election in 1986 Mr. Manning was one of three PNM candidates who retained their seats. He became the Leader of the Opposition and within two months was elected to the post of Political Leader of the PNM.
In 1991 Mr. Manning was appointed Prime Minister of Trinidad and
Tobago. He would again be appointed Prime Minister in 2001, 2002 and 2007.
Mr. Manning is survived by his wife Mrs. Hazel Manning and they have two sons, Brian and David.