The Guyana Public Service Union has given the Government and the Georgetown Public Hospital a 72-hour ultimatum to begin moves to address the concerns of nurses and other healthcare workers who have been on the frontline in the fight against COVID-19.
The move by the union comes in wake of the GPHC threatening the health workers with disciplinary actions if they continue with protests that the hospital considers illegal.
In the past two weeks, there have been protests by nurses in Georgetown, Linden and on the West Coast of Demerara pushing for an increase in their risk allowance, additional protective gear and improved salaries.
In response to the protests, the Human Resources Department of the Georgetown Hospital wrote to all who took part in the protest reminding them of the terms of their employment and threatening disciplinary action over the protests.
But at a press conference today, GPSU President Patrick Yarde said the demands of the healthcare workers are not unreasonable and many of the demands have been on the table before. He said if the Government does not move to address the concerns of the frontline workers, the Union will call for full strike action.
"We will mobilize for full strike actions, if within 72 hours we do not get what we consider as a positive response, to mature and professional decisions focused on an outcome in resolving this matter", Mr. Yarde said.
He said too many Health care workers have been putting themselves and their families at risk and they go above and beyond to tend to persons affected by the coronavirus pandemic in the country. The union President said many of the workers feel undervalued as their concerns are not addressed.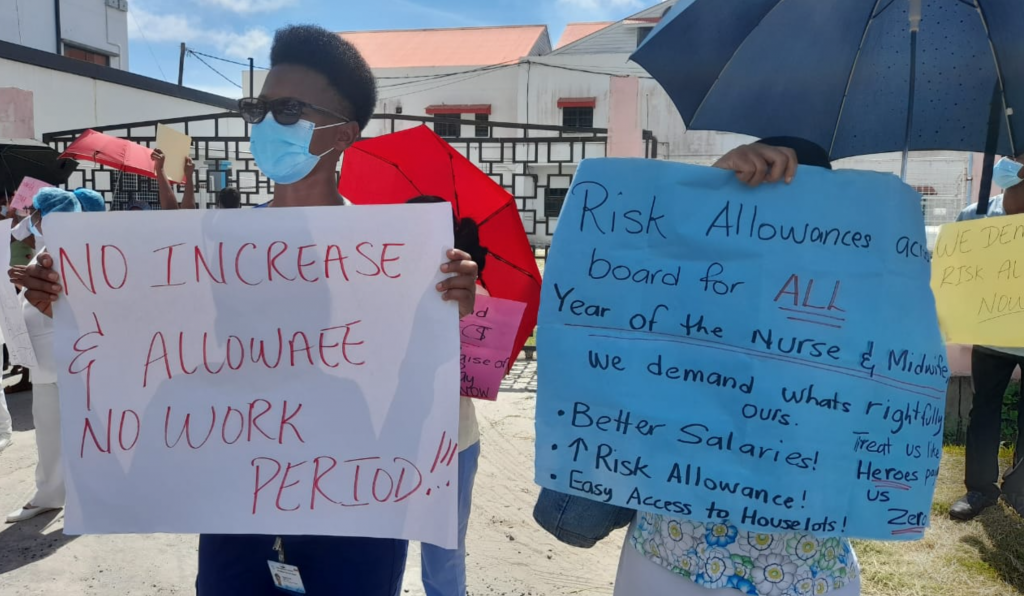 The Government of Guyana recently allocated $150 million in the budget for health workers who are on the frontline in the COVID-19 fight.
Yarde said when compared to the money allocated to other sectors, the sum is "chicken feed" for persons who are putting their own lives at risk with no proper risk allowance.
He said the union will be pressing for a favourable outcome and it hopes the government will meet and seriously discuss the issues that have been raised.
"In taking industrial actions in the health sector, the Guyana Public Service Union has always done an analysis as to its impact and its effect…they (the workers) will advise us and we will try our best to ensure that the action will not counter to what these workers are committed to, and that is providing quality healthcare" Yarde said.
The Georgetown Hospital, which houses the COVID-19 ICU and emergency rooms, has been overwhelmed with the increase in positive case in the past few months. Guyana currently has more than 1000 active COVID-19 cases. While the majority is in home isolation, there are still more than 100 who require institutional care.
Healthcare workers have been pressing for their concerns to be speedily addressed. The Health Minister has been requesting patience.