Opposition and APNU Leader David Granger and a number of Members of Parliament of the APNU continued with an outreach programme to several communities and villages in Region 9 – Upper Takatu/Upper Essequibo on Sunday.
 Granger has promised residents of the Rupununi that under an APNU government, there will be "serious education restructuring".
According to a statement from the APNU, Mr. Granger during visits to some of the communities, heard about the low performance of students at the National Grade Six Assessment (NGSA) from villagers in Parishara, Nappi, Hiawa, Yupukarri and St Ignatius.
The statement said the low performance at that assessment, has led to a high rate of 'dropouts' from the Region's four secondary schools at Annai, St Ignatius, Sand Creek and Aishalton. "There has consequently been a high rate of youth unemployment throughout the Region", the release noted.
 According to the APNU, "parents complained of the high cost of transportation, overcrowding, inadequate staffing and inappropriate official responses to social challenges facing secondary school students, including some living in dormitories. Many secondary school students, even those with Caribbean Secondary Education Certificates (CSEC), remained unemployed or ended up working as shop attendants in Lethem, the Region's administrative centre, or as farm hands, stewardesses or domestics in neighbouring Brazil".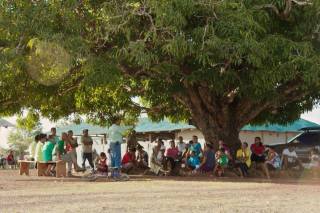 The APNU said Granger told residents that the "new administration would remove the impediments primary education, rectify the problems at the secondary level and restructure the education system in what is Guyana's largest region". The APNU said he committed to establishing a Rupununi Technical Institute and a Rupununi Agriculture Institute to give children an opportunity to pursue satisfying employment, becoming entrepreneurs and developing the economy of the Region.
Granger has often complained about what he calls the "underdevelopment" of many of the hinterland communities. In the past residents, have complained bitterly about the state of their communities and the lack of resources.
The Government has stated that it has been stepping up the development of the community under several programmes.
Filed: 18th January, 2015