NEW YORK (WABC) –Imagine taking off in a plane at full speed to all of a sudden have it stop just as quickly. That is what happened to passengers aboard JetBlue flight 1295 as it took off from JFK Airport Saturday night on its way to Austin, Texas.
"We were heading full speed down the runway, and the plane came to a screeching stop," says passenger Brandon Card.
Caribbean Airlines Flight 526 was right in the path of JetBlue's plane
"The people came on the intercom and said 'yeah, we almost collided with another plane," said passenger Krista Hollis, "when they said that collision would have been inevitable if we hadn't braked, I was like, 'what?!'"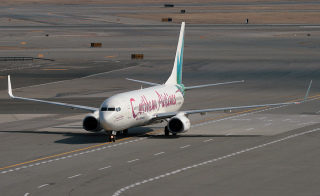 Radio transmissions between the tower and both planes show the tower contacted the Caribbean Airline pilot at least twice with no answer. There were tense moments as the JetBlue pilot aborted his takeoff moments before a potential deadly disaster could have taken place.
Aviation expert JP Tristani tells Eyewitness News that the Caribbean plane should not have been on the runway.
"No aircraft that is taxiing has the right of way without clearance from the ground operator," Tristani said.
Passengers aboard the JetBlue flight eventually made it to Austin, Texas, several hours late, but more than happy to be safe.
"They gave us a hundred dollar voucher, we had beer and wine and whatever we wanted on the plane," added passenger Anna Greenwood, "free movies – it was fine, they took good care of us."
JetBlue says that Caribbean Airlines was NOT authorized to cross the runway at the time.
JetBlue is not sure how close the two aircrafts got to each other.  No one was hurt.
Filed: 18th January, 2015