Guyana and Suriname today moved one step closer to realizing the plans to bridge the Corentyne river, which separates the two South American states.
A Memorandum of Understanding was this morning signed in Paramaribo between the Foreign Ministers of Guyana and Suriname for the bridging of the Corentyne River.
President Irfaan Ali and a Government team are currently on an official visit to Suriname. During a joint press conference, President Ali underscored the importance of bridging the Corentyne River and creating close links between the neighbouring countries.
"Once constructed and not if constructed, the bridge will serve as a permanent physical link between the people of Guyana and Suriname. But more importantly, that link to the rest of the South American continent. We recognise the enormous benefits that this could bring in the areas of tourism, transportation and trade", President Ali said.
The bridging of the Corentyne River formed part of the discussions between President Ali and his Surinamese counterpart when the Surinamese President visited Guyana back in August for President Ali's inaguration.
The issue is not new and had been discussed by previous governments in both Guyana and Suriname. But this may be the closest that the two sides have advanced the discussions.
President Ali today said Guyana and Suriname intend to begin strengthening their relations as easier access to the two countries will deliver added benefits.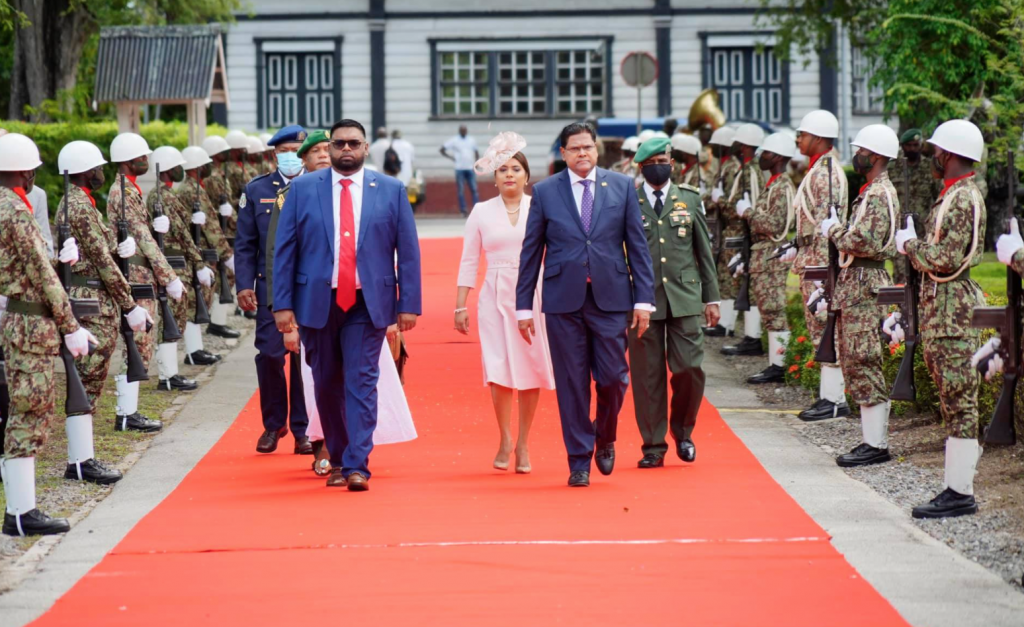 "We have expanded our discussion in areas where we can jointly promote tourism and business opportunities for both countries. It is expected that the proposed road alignments will create within its vicinity, the possibility of free trade zones, enhanced land values and this of course will reduce the cost of doing business and increase the ease of doing business", the President said.
Back in October, Guyana and Suriname demarcated the areas for the bridge on both sides. The three points of demarcation identified were Moleson Creek, Longs Island in the Corentyne River and South Drain in Suriname.
Suriname's President Chan Santoki said he believes the cooperation between Guyana and Suriname will grow even stronger in the coming years and both countries will benefit from that improved relationship.
He said "during our deliberations today, we have reiterated the importance deepening the political dialogue at the highest level and give direction to help monitor the bilateral negotiations and future undertakings in order to receive tangible development results".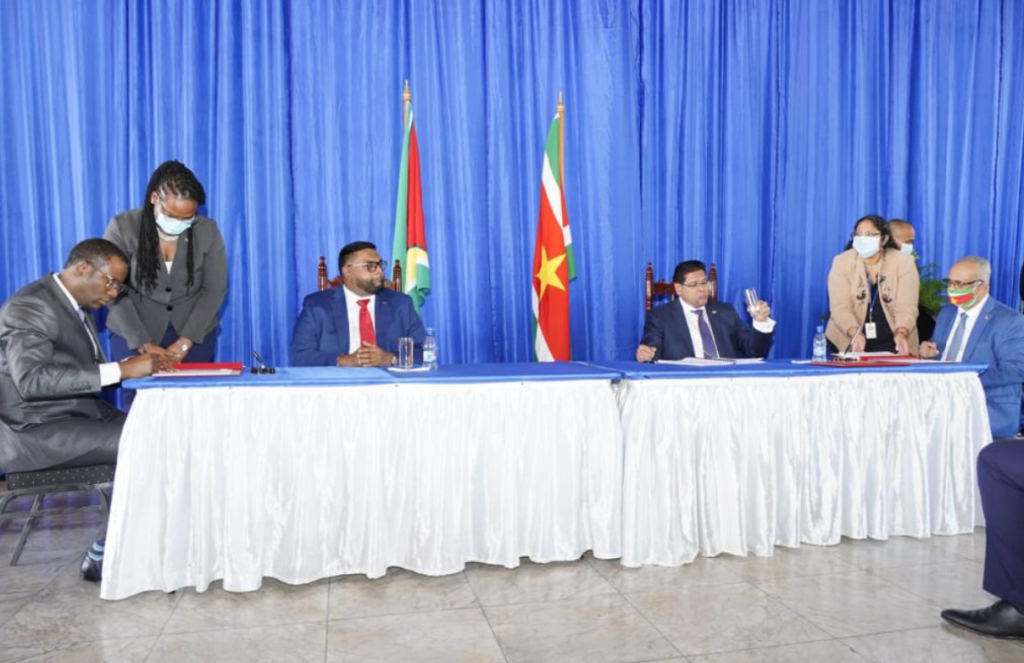 The Surinamese President said there is currently good momentum on both sides for the enhancement of sustainable development and cooperation.
President Ali and his team arrived in Suriname last evening on their three-day official visit. A number of other issues for cooperation at the bilateral level have already been discussed on the first day of the visit.