Divisional Commander for 'A' Division, Senior Superintendent Clifton Hicken, has apologised "to all members of the Guyanese society" who have been negatively affected by his comments made in relation to the offence of Rape, during his presentation of the Divisional Christmas Policing Plan on Monday November 17, 2014.
According to a  statement from the Public Relations Office of the Guyana Police Force on Monday afternoon, "the comments made were an unfortunate bad choice of words since, like every other member of the Force, the Divisional Commander understands Rape to be a violent act of power and aggression by the perpetrator on a weaker person."
It added that "rapists are criminals who ought to be treated as such, and victims are certainly not responsible for the violence committed against them."
Hicken's apology came hours after the Acting Police Commissioner Seelal Persaud offered an apology on behalf of the entire Guyana Police Force to all of Guyana especially the women of Guyana who were offended by recent remarks by Commander Clifton Hicken about the need for them to dress morally acceptable as a way of avoiding rape.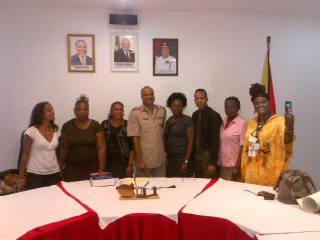 Mr. Persaud met with a number of women and human rights activists on Monday at his office as they stepped up their protest action against the A Division Commander.
Social Activist Mark Benschop who attended the meeting, told News Source that the acting Top Cop not only offered an apology but told the activists that the remarks should have never been made by the senior Police Officer.
Commander Hicken came under widespread condemnation last week after he told a police forum that " "we are thinking about preventing somebody from committing an offence and yet we are creating an atmosphere in terms of society which seems to be the norm now. When we are within our partnership programmes we advocate for the young females who seem to be vulnerable within a certain age group that is moving from around 13 to 18, 16 to 18, and we always try to embrace an attire that would be accepted morally and not to have yourself in an attire that you create this type of look, when I say look by the opposite gender."
Rights Activist have said the statement by Hicken sought to throw blame for rape on the victims. Guyana has recorded 50 reports of rape for the year already and there is concern that many other victims are afraid of coming forward.
The Opposition Leader David Granger has called for more education to be done in the Guyana Police Force about rape and the laws that govern the crime.
Filed: 24th November, 2014