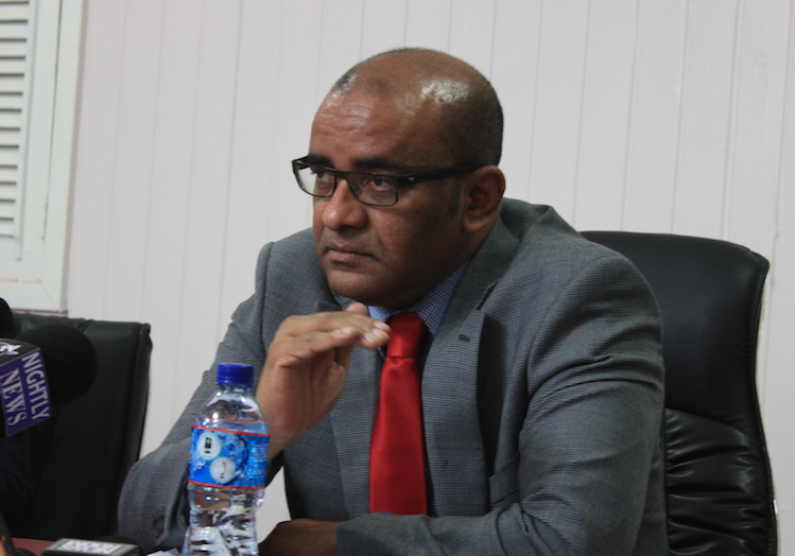 Opposition Leader Bharrat Jagdeo on Wednesday responded for the first time in person to the slew of criticism he attracted over comments he made recently while speaking to a crowd of mostly indo Guyanese immigrants in New York.
Jagdeo repeated each of those very statements and said he intends to stand by them because they bear truth.
"Today I want to repeat all I said abroad and I want to unequivocally stand by every statement I said so far," he said.
During that New York meeting, he told the gathering that persons of indian origin in Guyana were under attack and that their land were being snatched and it was time that the country be taken back from "those people".
Today, the Opposition Leader went further to say that if those comments make him a racist then President David Granger has to be racist too.
"If I am racist then the President has to be racist too for things he said in the past and continues to say. I will not stop representing people, if I feel they are being discriminated against I will speak out against it," he said.
The former President who has faced private criminal charges for controversial racist statements in the past,  said his comments are not different from comments he made in Guyana and regarded those comments as mild when compared to what he has said in the past.
Jagdeo said if he is to be judged by the government based on what he said as being a racist, then under the same standards the entire government can be seen as a "bunch of racists."
The Opposition Leader said he will not stand in a corner and say nothing for fear of being called racist.
"I said the government discriminates against Indo Guyanese and I will repeat it because it is true. I said the government discriminates against supporters of the PPP and it is also true… and I said we will work hard and take back this country from people who discriminate against people based on their politics and race," Jagdeo told a news conference on Wednesday.
The Opposition Leader has come up against a torrent of criticism from the government and sections of society even as he continues to enjoy the support of his colleagues in the People's Progressive Party.
But Jagdeo is not bothered and continues to stand by his comments. He said there seems to be a campaign to characterize him as being racist by the government.
The President has said that it would serve the Opposition Leader better to be a uniter, rather than lead as a divider of the people in the country.