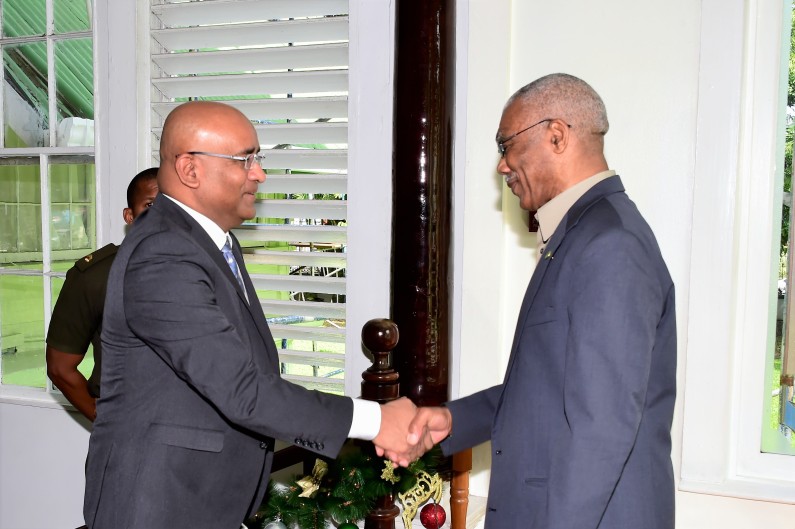 Opposition Leader Bharrat Jagdeo has responded to the President's invitation for them to meet and discuss the hosting of elections and funding for the same elections. But Mr. Jagdeo has put forward a number of demands that he wants met before the meeting could take place.
The meeting is scheduled for tomorrow, March 6 at the President's Office.
In his response letter, Mr. Jagdeo said he will only attend the meeting and commit the Opposition to supporting the extension of the Government if the President agrees to his demands.
Jagdeo wants the date of elections to be before 30th April, 2019. That date marks the expiration of the current voters list.
In addition, the Opposition Leader wants the President to consider his demand for the State, State Corporations and Regional Democratic Councils not to issue no new contracts after March 21 and for no new agreements, loans, grants, land leases or any similar agreements be issued.
He also wants the President to no abuse of state resources for partisan activities of purposes and for there to be access to the state media by all of the political parties.
Jagdeo said once the government agrees to his proposals, then the Parliamentary opposition will lend its support to ensuring there is a two-thirds majority for an extension of the period for the hosting of elections after a successful no confidence vote.
He also wrote that he believes that his proposal to hold the regional and national elections by April 30, 2019 is "reasonable and feasible".
The Opposition Leader said once his proposal finds favour with the Government, he will be willing to meet with the President on Wednesday morning at 11 o' clock.
The Government has not yet issued a formal response to the Jagdeo proposals.
The Constitution caters for elections to be held within 90 days of the passage of a no-confidence motion or at a time agreed to by two-thirds of the National Assembly.
The Guyana Elections Commission has already stated that it cannot hold elections within that 90 period, which expires on March 21. The Commission has also said the earliest date by which it would be in a position to host elections, would be in July.