President David Granger on Thursday pledged more support and assistance for President's College, while attending an event to mark the school's 32nd anniversary.
As patron of the College, the Head of State said he intends to continue offering support, especially in the areas of science, technology and mathematics.
He said the support will not only be financial, while recalling the recent allocation to the institution through the National Endowment for Science and Technology.
"I will keep helping PC, especially in the areas of science, technology and math […] I want to ensure that the school is the recipient of the best possible funding," he said.
The President said while it remains costly to keep one student at the institution for a period of five to seven years, he is committed to assisting where he could to maintain the high standards of the college.
Mr. Granger addressed the entire school population of students, teachers and auxiliary staff and said while he was impressed by the cultural show put on by the school, he wants to ensure that the school produces citizens that can build highways and bridges.
"I urge you, regardless of your affection for culture and poetry, song and dance that you must bear in mind the necessity for Guyana to become a more scientifically inclined country," he added.
The President said although the school was not founded so long ago, he was happy that the school's spirit remains central to the government's vision for the country.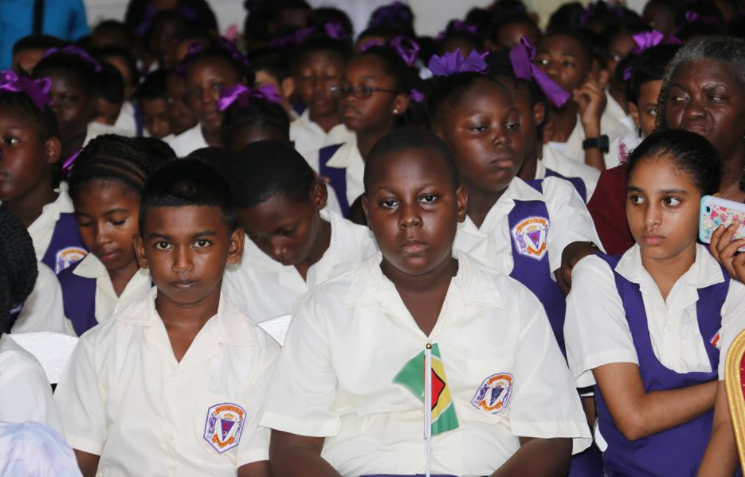 "Everything about President's College is about leading this country forward."
The President urged teachers to inculcate the value of discipline in students while asking students to understand the need for discipline."It doesn't have to be enforced – it must come from your peers. It doesnt have to be imposed by harsh punishment. Always remember your duty to do what you ought to do not what you are told to do," he added.
President's College opened its doors on September 11th, 1985 to just over 70 students with a mission to provide a place of education, learning and research of the highest standard.