A protest outside the Georgetown Magistrates' Court turned into celebration on Thursday morning after the Director of Public Prosecutions ordered the Police to drop the murder charge it had instituted against 26-year-old East Ruimveldt resident Shaka Chase.
With the charges dropped, Chief Magistrate Priya Beharry told Chase he was free to leave the court-house. The young man was charged on Monday for the shooting death of Police Corporal Romain Cleto. He had always maintained his innocence and had told his attorneys Nigel Hughes and James Bond that he was no where close to the Republic Avenue area on the night that the policeman was gunned down.
Chase had also complained about being badly beaten and tortured while in custody and being forced to sign a confession. His lawyers sent that information along with several statements from a number of other persons who confirmed Chase's alibi on the night of April 27, 2013 when Police Corporal Cleto was murdered.
An emotional Shaka Chase hurried out of the courtroom and into the arms of relatives and supporters who were gathered on the outside. His young son was also at the courthouse and he grabbed him into his arms as he celebrated his freedom. Chase would only say that he was happy to be set free and that justice was done in the matter.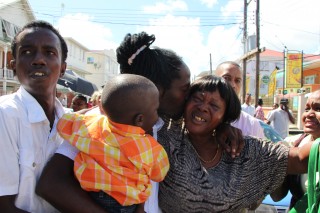 Attorney James Bond told News Source that justice was served and this should serve as a wake up call to the police to conduct proper investigations in the future.
The Attorney said the murder charge against Chase was based solely on a confession statement and there was no way that sort of evidence could stand up in court taking into account the man's complaints about being beaten and tortured into making the same statement.
Bond said it is also time for complaints about torture and beating of persons by law enforcement to be taken seriously. He said "it is incumbent on us lawyers to start to submit whatever evidence we have" in that regard.
Police investigators did not ask the Director of Public Prosecutions for advice on the matter before charging Chase and that move was criticised by the Attorneys for the young man. Shaka Chase's relatives said they were happy that "justice was served" in the matter since the "wrong man would have been put down" for the murder of Policeman Romain Cleto.
Cleto was shot while approaching a heavily tinted vehicle that his patrol had stopped on the night of April 27, 2o13. A number of persons were initially questioned about the shooting death. Shaka Chase had visited the police on several occasions and was released before charges were eventually brought against him. Charges that have now been thrown out.