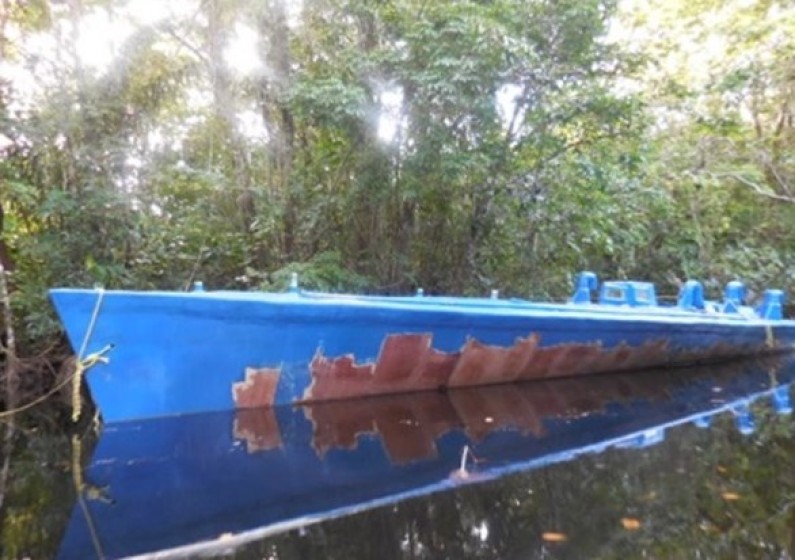 In a joint operation, the Customs Anti Narcotics Unit and the Special Forces Unit of the Guyana Defence Force have unearthed a self propelled semi submersible vessel which they believe may have been built and was being used to ferry cocaine and other illegal drugs in and out of Guyana.
In a statement from CANU, the Drug Enforcement Agency said that based on intelligence from an ongoing investigation, officials of the Customs Anti Narcotic Unit and the Guyana Defence Force Special Forces, Coast Guard and Air Corps conducted an operation along the Waini River in the North West District and during a search of one of the creeks branching off from the Waini, a blue vessel (later identified as a SPSS) was discovered about 2 miles in, along with a camp consisting of 3 structures – accommodation, workshop area and generator.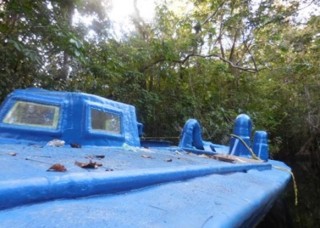 The statement said that the accommodation had the capacity to sleep approximately 12 persons, there was also a kitchen area located within the accommodation. "The workshop consisted of pulleys, power tools, paint, and several fiber glass materials.  Based on the items present, it is evident that this area was used to build the SPSS found in the creek".
The SPSS upon closer inspection was already fitted with a diesel engine and steering wheel, navigation and other machinery to deem it serviceable.  There was no contraband on board the SPSS.
CANU said Investigations are ongoing along with discussions with foreign counterparts as it relates to information sharing and assistance in relation to the discovery.
Drug barons in Colombia and other parts of  South America and in Mexico are known for using the self made drug carrying submarines to ply their illegal trade away from radar and on the water and in the air inspection.
Guyana has been named in several US State Department Narcotics Report as a drug transhipment point for cocaine destined for the US and Europe.
While there have been increased efforts to tackle the export, local Drug Enforcement agencies have found it difficult to take on the importation and ferrying of drugs into Guyana.
The United States government recently announced that it will be setting up a US Drug Enforcement Agency Office in Guyana. The office will be based at the US Embassy and is expected to support the local agencies with intelligence and other resources to put them in a better position to fight the narco trade.