A multi-million dollar investment by a Surinamese company has opened its doors in Guyana with the intention of offering meat lovers, better quality products. The Rossignol Butcheries Meat Centre opened its operations on Church Street (Between Cummings & Light) in Georgetown on Friday. The opening forms part of a "rolling out" campaign.
According to the Company Secretary Carolyn Paul, the new meat centre is offering all meat products that are a "cut above the rest".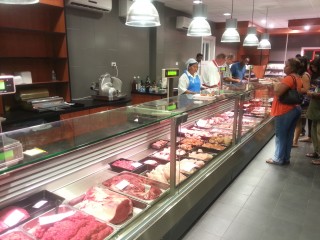 The new establishment boasts of having modern storage equipment which ensures the freshness and safety of the meat and meat products. Ms. Paul explained that the new business is "a meat centre and a semi supermarket with everything related to meat and meat products being available".
A bakery is expected to be added to the business soon offering all types of bread and wheat products. But the company stresses that it is in the "meat business" offering all the various types of meat from tenderloin and fillet to special cuts. Fillet chicken and beef and chicken patties are also being offered. Shoppers also have the options of purchasing seasoned and pre -cooked meats.
The establishment also has its own sausage manufacturing facility and special sausages are being made. Customers could also place their own special orders.
The Company Secretary said several new products will be added to the line up as the facility opens its doors wider over the next month. The various meats being sold have been sourced locally.
Over the next two weeks, the company is expected to hire  at least 25 more Guyanese to compliment its workforce. Some have already been hired and are being trained. The Rossignol Meat Centre will be opened Mondays to Fridays from 7am to 7pm and on Saturdays from 7am to 9pm.
The company is hoping that its proximity to the Bourda market will be a bonus for business since the market is a favourite shopping place for persons looking for fresh vegetables.