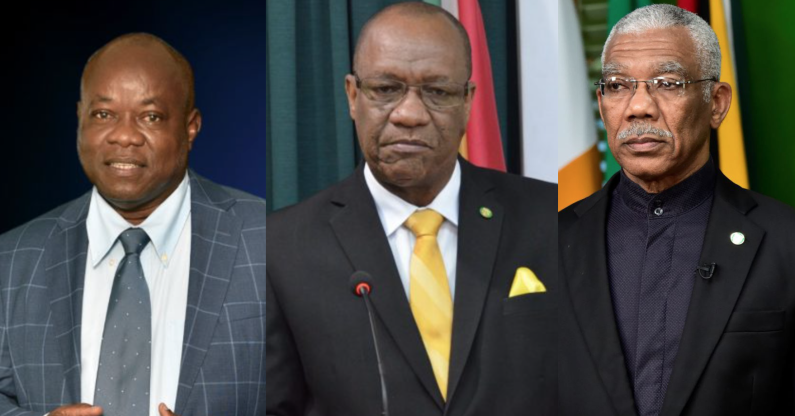 Leader of the People's National Congress Aubrey Norton is set to meet on Monday with former President David Granger, Opposition Leader Joe Harmon, AFC Leader Khemraj Ramjattan and David Patterson who is the General Secretary of the AFC.
News Source has learned that the meeting will examine a number of issues related to the APNU+AFC representation in the National Assembly.
The People's National Congress is the largest party in the coalition and its Executive wants the party Leader Aubrey Norton to be made a Member of Parliament and take over the position of Opposition Leader which is currently being held by Joe Harmon.
Former PNC Leader David Granger currently sits as Chairman of the APNU and the Representative of the coalition's elections list, which allows him to appoint and recall Members of Parliament.
With Mr. Granger bowing out of active politics, it is expected that the meeting will also examine the Chairmanship of the APNU as well as Mr. Granger possibly resigning as the Representative of the list.
Sources close to the former PNC Leader told News Source that based on conversations with him, it appears as though Mr. Granger is ready to move on from the positions of APNU Chairman and List Representative.
It is unclear whether the constitution allows for a new representative of the list to be appointed outside of the Deputy Representative of the list. If Mr. Granger decides to step away from the position, then it is likely that the Deputy Representative will move up and become the Representative of the list. Leader of the Alliance for Change, Khemraj Ramjattan is the current Deputy List Representative.
During a press conference today, PNC Leader Aubrey Norton confirmed that the meeting will take place but refused to offer details. He said the party and the coalition intend to continue dealing with the political issues internally. Norton has promised to inform the nation through the media of any updates at an appropriate time.
He dodged several questions on the situation today, making it clear that the parties intend to address the issues internally.