The Civil Defence Commission (CDC) has announced that it has received over GY$16M worth of much needed relief supplies from the members of the Private Sector Commission (PSC) to assist in the recovery efforts in those hurricane ravaged islands.
The Government of Guyana has donated US$100,000 to the relief efforts.
The Chairman of the Private Sector Commission, Desmond Sears, believes that the Private sector has heeded the call by the Government to contribute in whatever way it can, to bring relief to the thousands of persons who have been left without food, clothing, shelter and other basic amenities in the wake of Hurricane Irma and Maria.
Director General of the CDC, Colonel Chabilall Ramsarup in brief remarks, said that the Commission is grateful for the contributions, as it will go a long way in assisting those persons who have been affected.
"We are very heartened by the contributions, which have been put together by you, the members of the Private Sector Commission. We are very, very grateful for this and on behalf of the CDC and the Government of Guyana, we say a heartfelt thank you," he said.
The CDC is in the process of packing several containers, which are expected to leave Guyana on Saturday morning September 30, 2017 for Antigua and Dominica.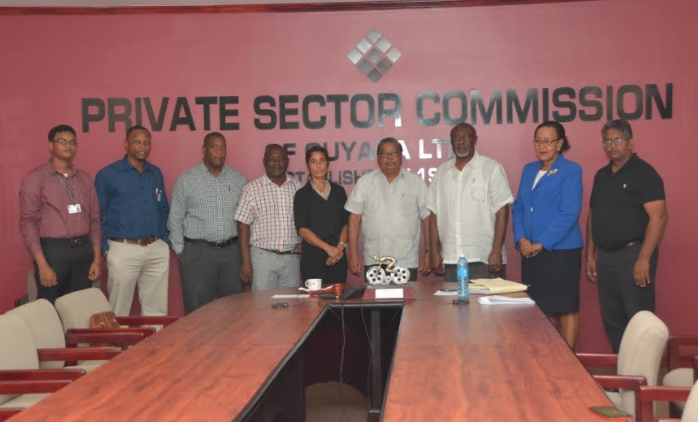 Given the volume of contributions received, Guyana is looking to send approximately 10 containers of supplies. This is in addition to the 2,900 pounds of supplies, which were sent last week on a chartered plane to the affected islands.
The CDC and the Disaster Risk Reduction Platform are still encouraging members of the public to contribute to this process.   The CDC has established the 'CIVIL DEFENSE COMMISSION IRMA RECOVERY FUND' at the Guyana Bank for Trade and Industry (GBTI) and the Republic Bank Limited (RBL) to aid this process. Three other accounts at the local banks are expected to be set up in the coming days.
Persons who wish to donate can make deposits to the IRMA RECOVERY FUND at the GBTI to account number 011802489012 and the IRMA RECOVERY FUND at RBL to account number 651-993-8.