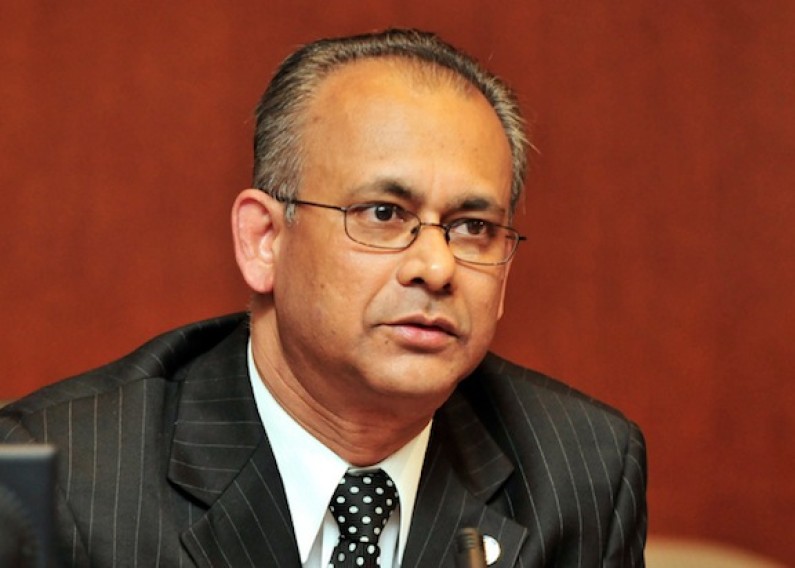 Almost one month after Guyanese voted in closely elections which resulted in a change of government, the outgoing Deputy Secretary General of the Organization of American States, Albert Ramdin is calling on political parties to come together in order to advance the country's development.
On his last official visit to Guyana before he leaves office on July 10, Ramdin said that if any political party does not agree with the outcome of the polls, there are mechanisms to deal with those objections in Guyana's electoral framework but opined that it was "time to move on."
He explained that once the relevant institutions have pronounced on elections and once the time frame for objections have taken place then it is time to move on and recognize the authority that comes with it
"There are other opportunities including the court and otherwise… my point is that elections, especially when they are close, it always leaves a bad taste and creates problems," he added during a Thursday press briefing at the Pegasus, Georgetown.
The Deputy Secretary General's comments come in wake of the opposition People's Progressive Party's refusal to accept defeat even as several international observer missions, including the OAS and  Western Heads of Missions in Guyana have declared that the elections were free, fair and credible.
"I am not saying that the party that is not in agreement with the outcome cannot continue with clarifying their position but in the meantime a country has to move on," Ramdin said while calling on the PPP to demonstrate the evidence where wrongdoing's occurred.
He made a special call for attention to be given to ensuring inclusive governance which the APNU+AFC coalition government has already committed to ensuring.
"Democracy needs all voices to be heard… we cannot expect the government and we should not even think that the government can do everything in terms of peace, prosperity and security. These issues in a society are the responsibility of all."
To this end, he has urged the PPP to ensure participation in Guyana's National Assembly while appealing to all political parties not to be distracted by political instability.
During Ramdin's visit, he met with President Granger along with key Ministers including Foreign Minister Carl Greenidge and National Security Minister Khemraj Ramjattan.
He said the OAS intends to continue supporting Guyana, particularly in the area of security.
Mr. Ramdin hopes that Guyana will get back on track as one people to move the country's development agenda forward.