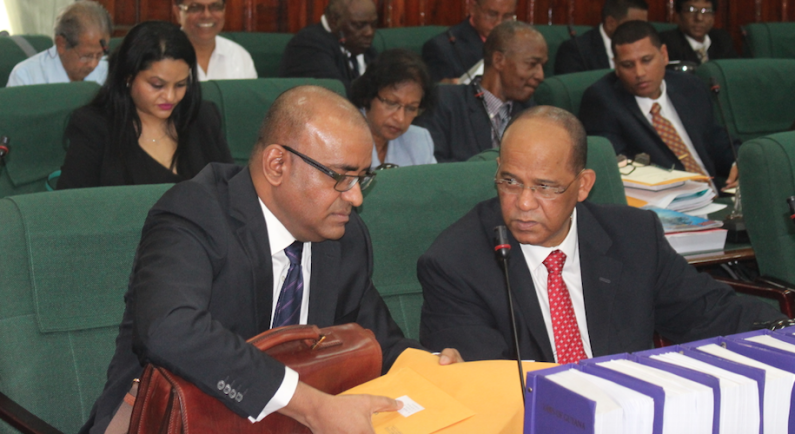 Although the PPP is the only Opposition party in the parliament, the General Secretary of the Party, Clement Rohee is making it clear that when he speaks on an issue to the media, he is doing so on behalf of the party.
At his Monday morning press conference, Mr. Rohee also pointed out that any statements coming from the Opposition Leader Bharrat Jagdeo should be seen as statements coming from that Constitutional office.
Mr. Rohee made the point in response to questions about the different statements that would come from himself and Jagdeo on the same issue.
Last Monday, Rohee called for the Police Service Commission to put a hold on all police promotions. Four days later, Mr. Jagdeo appeared in the same PPP room before the media and said he believes that the promotions should go ahead as planned.
It was not the first time that the two have offered different official positions on the same issue. Rohee is adamant that there is no power struggle within the PPP. As General Secretary, he is seen as the Leader of the Party but in Parliament, Mr. Jagdeo takes on that leadership role as Opposition Leader.
According to the General Secretary, "when I speak, I speak as General Secretary of the PPP and when Bharrat Jagdeo speaks, he speaks as the holder of a constitutional post, which os Leader of the Opposition".
In the past few weeks, there have also been statements on other issues coming out of the former Presidents Donald Ramotar and Sam Hinds.  Both former Presidents under the PPP are no longer in active politics but have chosen to defend many of the decisions made by the PPP in government under their watch.
Rohee became General Secretary after Mr. Ramotar vacated the office when he became President.  Asked whether he intends to officially seek the office at the next party congress, Mr. Rohee said he has not made a decision as yet but it has crossed his mind.