The smaller parties contesting the upcoming General and Regional elections have warned that their influence and ability to encourage large voter turn-out should not be underestimated by the citizenry and bigger parties.
While the hype on Tuesday surrounded mainly the incumbent People's Progressive Party Civic and the APNU+AFC Coalition, at least four smaller parties submitted lists of candidates to the Guyana Elections Commission, which they hope will be accepted and will pave the way for their participation at the May 11 elections.
The once vibrant United Force is being led by Marissa Nadir as the Presidential Candidate, The Independent Party has activist Mark Benschop at its helm and the Healing the Nation Theocracy Party, led by Ras Lean Saul, aims to largely represent the interest of the local Rastafarian community although it will not be contesting the national elections.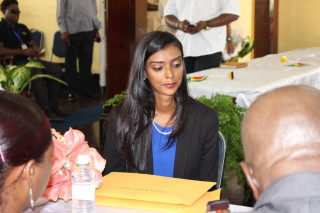 Saul told News Source that his party will only be contesting the Regional elections in Region 4. He noted that the Party will be looking to represent "the grass roots, ordinary people who haven't been given a chance to represent themselves and community. In other words we are representing ghetto people."
Saul said seeing the two big parties with their scores of supporters made him feel like David going up against Goliath.
"We say small ax does cut down big tree, five years from now it will be a different scenario but for now we are going to go along with the coalition to ensure change happens in a meaningful way. We are hoping for a landslide," he added.
He promised that a lot of the Rastafarian voters who did not vote in the last elections will be encouraged to come out and vote. "The time has come for them to take a stand."
Meanwhile, Nadir said The United Force's list comprises of persons from a wide cross section of society, inclusive of prominent business persons.
She said her party is confident of canvassing support that would be enough to make a difference post elections. "We are looking to be a voice for persons and we are the alternative for the other persons who are disgruntled with the other parties in Guyana.
The TUF secured just over 800 votes at the last elections . Presidential Candidate Marissa Nadir is the Daughter of former TUF Leader Manzoor Nadir who is now a PPP/C member and is on that party's list.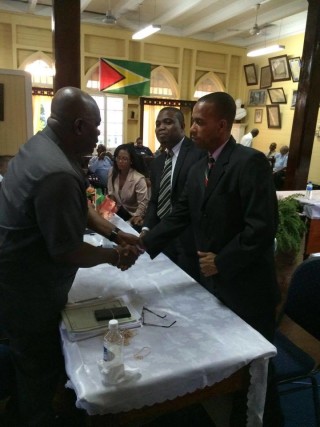 The Independent Party which was founded recently and is being led by political activist Mark Benchcop has also indicated its interest in contesting the elections.
Benschop was the last to hand in his list to GECOM and was forced to change his Prime Ministerial Candidate after it was realized that the original candidate was not registered to vote.
Attorney Dexter Todd will now serve as Benschop's running mate. Benschop's list is made up of a number of women who have either been victims of domestic violence or who have children who faced police brutality.
In a facebook post Benchcop said "let the democratic process begins at Gecom in declaring whether we have satisfied their legal requirements to be placed on the ballot, as we would have done our part. The Independent Party is ready to become the nations' watchdog in parliament, we await the results."

Filed: 7th April, 2015