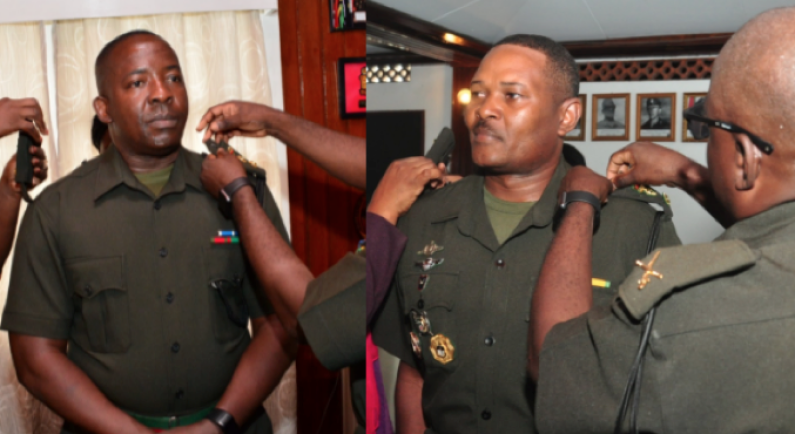 The Top Brass of the Guyana Defence Force now has two new Colonels.
The GDF announced today that Substantive Lieutenant Colonels Trevor Bowman and Godfrey Bess have been promoted to the rank of Substantive Colonel.
The promotions, which took effect from July 1, 2018, were announced by Chief-of-Staff Brigadier Patrick West following the President's approval.
The Chief-of-Staff has congratulated the newly promoted Colonels, urging them to continue on their path of excellence.
Brigadier West revealed that Colonel Bowman will take over the appointment of Inspector General, while Colonel Godfrey Bess will hold the appointment of Quartermaster General.
The two appointments, the Chief-of-Staff noted, demand higher levels of responsibility, accountability, and greater efforts to ensure that a standard is upheld throughout the Force.
He expressed confidence in the officers and encouraged them to continue giving their best, not only for the development of the GDF, but also in service to the people of Guyana.
Colonel Bowman acknowledged that there will be new responsibility with his new rank. He also expressed appreciation for his wife's support over the years, particularly when duty called for him to be in locations far away from home.
Colonel Bess thanked his wife and family for their support, noting that it was indeed selfless and invaluable.
He also thanked the GDF, the Chief-of Staff and the Commander-in-Chief for reposing their confidence in his ability to get the job done.