Vice President Bharrat Jagdeo who traveled to Ghana as part of bilateral cooperation efforts between Guyana and Ghana has stated that Guyana will use Ghana's experience in the oil and gas sector to ensure that Guyana's petroleum resources are properly developed.
Mr. Jagdeo wrapped up his three-day visit to the West African country today.
During the visit, the Vice President and his team held discussions with Ghanian officials and the two sides looked at boosting their partnership on several fronts especially oil and gas.
During a radio interview in Ghana last night, the Vice President said he is impressed with what Ghana has achieved relative to the petroleum industry.  
"So, we are here to learn a lot as we try to craft the architecture to manage this industry and to build the institutions necessary for its proper regulation and what I have heard here is amazing. I have always known Ghanaians to be very smart people from my engagements around the world with them, but you have a tone of brilliant technicians here in building these institutions and crafting these policies and we are looking forward to them coming to help us do that," the Vice-President observed.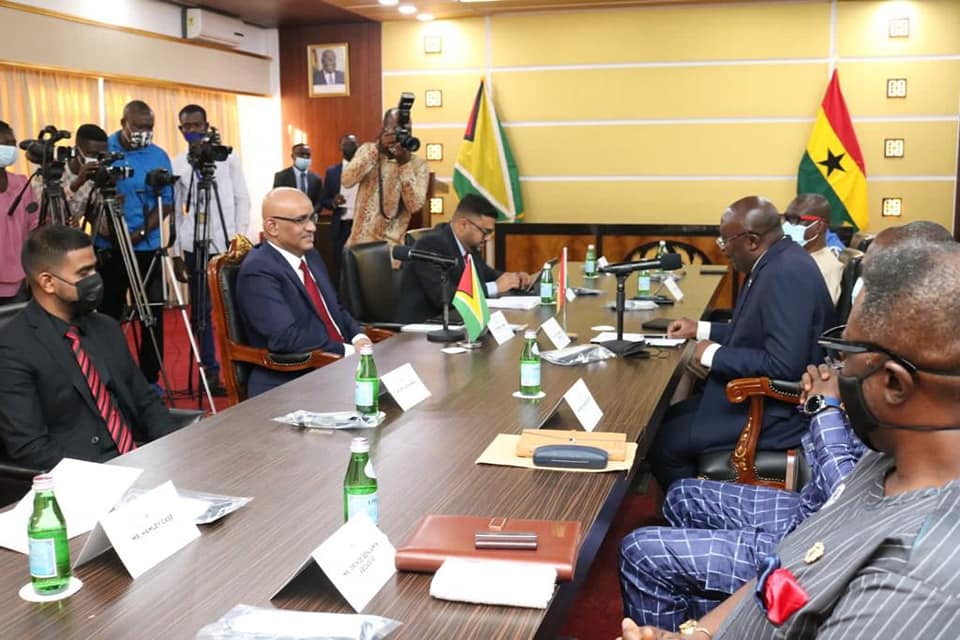 Mr. Jagdeo said Guyana is looking forward to strengthening its relations with Ghana since the West African nation has a lot to offer.
He explained that the process will be overwhelming for Guyana since it is new to the industry and said that the country needs to be careful in planning for the future to develop the industry. Ghana's experience he noted, will help Guyana in that regard.
"The pace of the development of the industry in Guyana is a dizzying one. So, from the discovery of oil in 2015, we are already producing oil. We are producing 120,000 barrels per day and by 2025 we will be producing 800,000 barrels a day and then by 2027, possibly 1.2- 1.4 million barrels a day almost the same quantity as Nigeria, more than Venezuela," Mr. Jagdeo said.
Since Ghana's first commercial oil lifting took place, over 4.7 million barrels of crude oil have been produced, at an average of 80,000 barrels per day.
Ghana has been hailed over the years for having one of the best architectures for the oil and gas industry since its industry is divided into the upstream and downstream sectors and includes the procurement and refining by its own petroleum refinery.