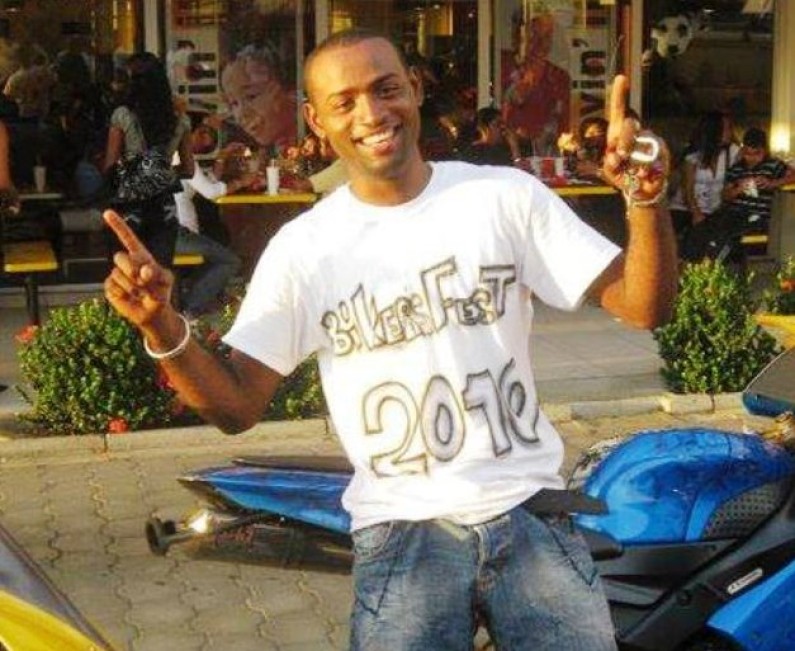 The voice of a woman was heard shouting "Randy don't do it" just before 30-year-old biker Kirk Davis was shot dead in front of his Eccles home, according to persons who were in the area.
It is believed that the woman was calling out to her husband as he whipped out a gun and started firing shots at Davis.
Police investigators believe the young biker was first shot in the back seat of the car while meeting with the Water Street businessman and his wife over allegations that the biker was involved in a relationship with the businessman's wife. Both the biker and the businessman's wife denied the allegations.
More details are now emerging about the shooting death as the police begin a search for the businessman who has gone into hiding.
News Source understands that the biker had complained to friends that he was "uneasy" about the accusations coming from the businessman who had contacted him several times during the day.
One source close to the late biker said, the businessman and the biker were friends and knew each other well, so it came as a big surprise when they realized that the conversation over allegations had become violent and resulted in the death of Kirk Davis.
According to reports, just before 9 o' clock on Tuesday night, the businessman with his wife and a sister-in-law pulled up in a grey Toyota Premio motor car in front of Davis' Eccles home.
The biker had two friends over at his house at the time and the businessman may have been unaware of that fact.
News Source has learnt that after the businessman arrived, Davis decided to go out to meet with him because it was someone he knew well.
He was last seen going into the car in front of his house. An argument was heard coming from the car about the allegations. The businessman who is said to be 28 years old was seen leaving the driver's side of the car and going around to the back passenger side where he whipped out a gun, opened the back door and fired several shots at the biker.
Someone who was in the area at the time and observed what had transpired said Davis' body was then pulled out of the car by the businessman and thrown in front of the house.
The businessman reportedly stood over the body and fired more shots before driving off from the scene. One of the women who was in the car at the time was also shot and is nursing her injuries at a private hospital.
The car is reportedly registered under the PRR series and persons familiar with the investigations told News Source that Police investigators should know where the businessman lives and therefore should have no problem identifying him.
The Guyana Police Force has reported that they have identified the businessman as the main suspect and efforts are underway to arrest him.