A young man who is still to be identified was hit off his motor scooter by a young drunk driver and died at the scene early on Saturday morning. The incident took place  at the corner of Regent and Albert Streets just before 2 o' clock on Saturday morning.
According to reports, the unidentified man was riding his motor scooter, registered CG 6446 with a woman as his pillion rider,  when he was slammed off the bike by the speeding motor car PGG 8790.  The impact was loud and the man and the woman were seen sprawled on the road. The man appeared unconscious while the woman was rushed to the hospital with serious injuries.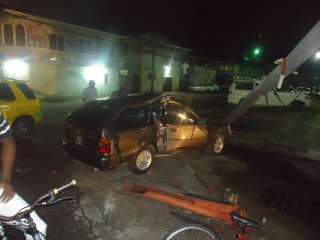 The car slammed into a power pole and came to a stop after hitting the couple off the scooter. Eyewitnesses said the driver of the car and his lone passenger both emerged from the car stumbling and appeared heavily intoxicated. "You could smell the rum on them", one woman said.
While public-spirited persons were trying to render assistance to the injured scooter rider, a speeding mini-bus forced all of them to run for cover as it hit the man's scooter and drover over his body.
Persons in the area started to scream as a taxi driver was heard remarking "well if the knock down in kill he, that run over sure kill he".
The mangled body of the scooter rider remained sprawled on Regent Street for over 45 minutes as persons tried to get an ambulance to the scene. Almost everyone at the scene, found themselves calling the emergency number 911 to no avail. The emergency line was never answered and the fire service was eventually contacted, the fire service operator said she too was not getting any answer from the 911 emergency line. Eventually, persons rushed down to the Georgetown Hospital and summoned an ambulance.
The scooter rider was rushed to the hospital where doctors pronounced him dead. Many persons at the scene believed they would have been able to save his life, had emergency services arrived on time.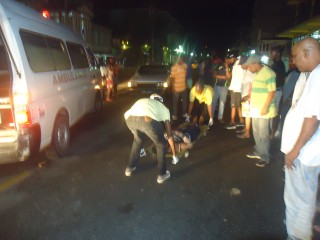 The driver of the motor car and his passenger were both taken to a private city hospital after they were spotted trying to escape from the scene.
Police investigators were able to find them at the hospital and hold them for questioning. The driver of the mini bus was also being questioned.
The injured woman who was at the back of the motor scooter told  Police officers that she did not even known the rider's name since they had just met.
An investigation is underway.
.