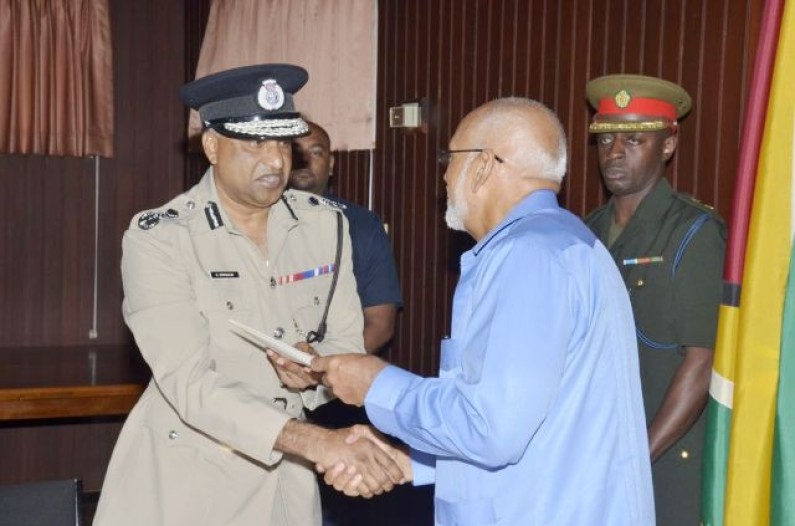 The government and the Leader of the opposition  David Granger continue to be at odds over the confirmation of Seelall Persaud as Police Commissioner.Mr. Granger is contending that he was not meaningfully consulted in his capacity as Opposition Leader but the government is maintaining that there was consultation.
Granger, who last week challenged the presidential appointment, on Tuesday rebuffed statements by the Attorney General where he claimed that Granger was meaningfully consulted.
Granger claimed he was only written a letter which does not constitute meaningful consultations within the provisions laid out in Article 2:11 of the Constitution.
"I haven't stepped into the Office of the President and I have not been consulted… I don't know what the rush is," he told News Source.
But even in the face of this contention, the government maintains that meaningful consultation occurred.
Government's Chief Spokesman Dr. Roger Luncheon told reporters on Wednesday that "I would like to see and be informed where and when and to whom he made those remarks because this is at odds with reality."
He said Granger's remarks are obviously premised on a different judgement of what he thinks constitutes consultation.
He claimed that President Donald Ramotar has been chasing after Granger "morning, noon and night" but "he ain't no easy cat to catch and get in touch with."
The Cabinet Secretary told reporters that the President had to resort to an individual on several occasions to gain access to the Leader of the Opposition."
He claimed that the President has correspondence from Granger in response to correspondence from his office addressing specifically the appointment and confirmation of Seelall Persaud.
Luncheon said he finds it strange that when Persaud was appointed acting Commissioner, Granger  called for substantive confirmation but could not be found when the time presented itself for that to be done.
Granger has however made it clear that he does not recognize the confirmation and the matter will be taken up by his Attorneys.
Filed: 19th March 2015