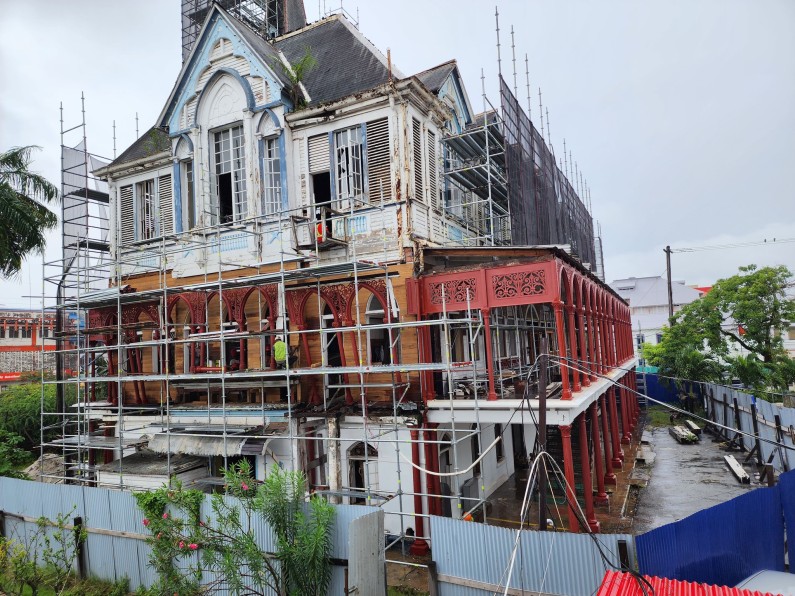 As restoration works continue at the iconic City Hall building, over $263.1 million has been approved for the restoration efforts.
Minister of Local Government Nigel Dharamlall said the project will be completed within its 18-months timeline.
The restoration project totals some $780 million.
As the Committee of Supply entered its third day of considering the National Budget Estimates, the Local Government Minister told his colleagues on both sides of the House that the City Hall Restoration Project is in keeping with a commitment made by President Irfaan Ali to restore the historic building, which was left in a dilapidated state for many years.
 "One of the commitments President Ali made, as soon as he took office, was the transformation of Georgetown. And at the first Cabinet meeting, resources were geared towards the enhancement of Georgetown. Subsequent to that, City Hall, which is both an iconic and historic structure within the landscape of Georgetown, resources were allocated for its restoration," he told the Committee.
Laying blame at the feet of the Opposition which has a majority on the Georgetown City Council, Minister Dharamlall said little was done to restore the iconic City Hall during the coalition's five years in office.
"The City Council of Georgetown is controlled primarily and almost exclusively by the People's National Congress, and of recent, the APNU+AFC…and they have left this building to rot over a number of years, and it is quite unfortunate that the office of the city, at one time, was in the City Hall and it became a national embarrassment for the country," he told the Committee.
Further, he accused the APNU+AFC majority Council of also failing tO pour resources into the City Constabulary to enhance the safety and security in the city. According to him, the City Constabulary has been left hamstrung.
The Local Government Minister contended that though the Council spends in excess of $2.1 billion a year, it continues to fail to address big issues like waste management.
Since the change of Government in 2020, City Major Ubraj Narine has accused the Irfaan Ali Administration of starving the City of critical resources, thereby crippling the effective management of the capital city.
A number of Government Departments and Agencies owe millions in taxes.