"I am trying", were the words offered by the grandmother of slain NYPD police officer, Randolph Holder, as she stood quietly at the Cheddi Jagan International Airport to welcome her grandson home, one last time.
The young policeman was gunned down in the line of duty in East Harlem last week.
His grandmother, Elizabeth Lovell, was joined by other relatives on the tarmac at the Cheddi Jagan Airport as the Fly Jamaica flight arrived with the policeman's body and his New York based relatives and officers of the NYPD.
The Guyana Police Force band and a Guyana Police Force Guard of Honour marched briskly on to the tarmac in ceremonial attire as the NYPD officers dressed in ceremonial blue walked towards the gold coloured casket which was flag draped.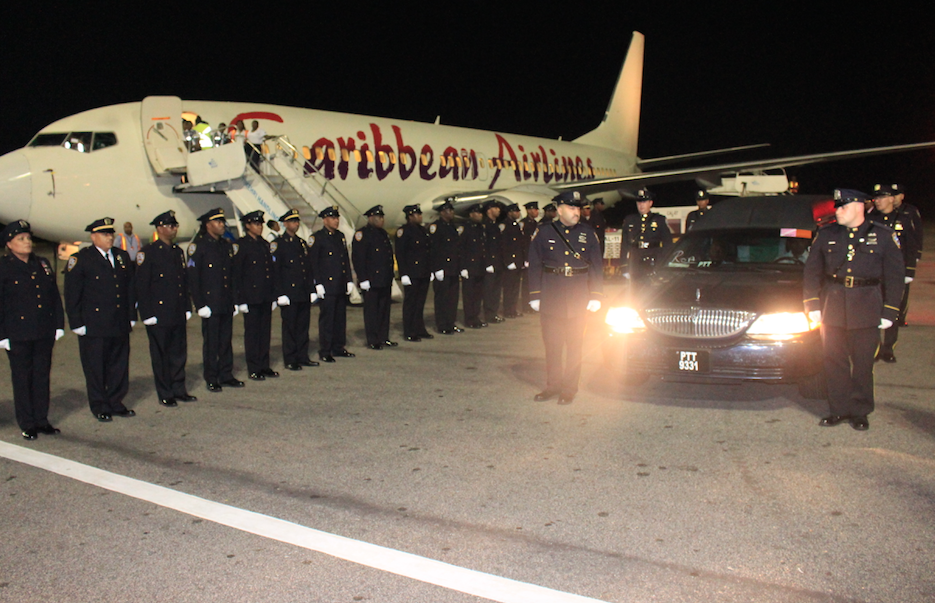 Screams of anguish from family members filled the air as the NYPD pall bearers carried the casket to the waiting hearse and the Guyana Police Force band played somber sounds and slowly marched off of the tarmac.
The body was escorted to the city by the Guyana Police Force and a large procession followed to the Merriman's Funeral Home where a candle light vigil welcomed the body and family members.
The burial for the fallen policeman will take place on Saturday at Le Repentir Cemetery following an early morning service at the Brickdam Cathedral.