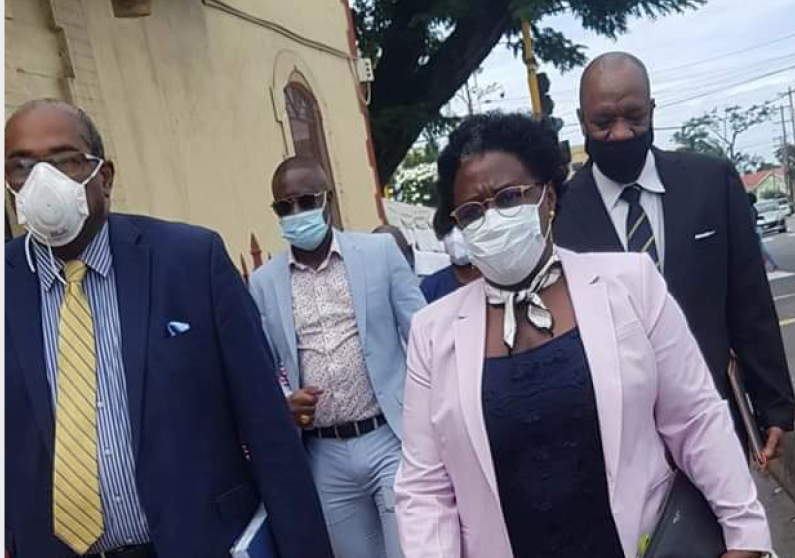 Former Government Minister Simona Broomes and her Driver/ bodyguard Dexter Austin appeared in Court today facing a number of charges following a confrontation with a PPP Civic city councilor.
In Court today, Ms. Broomes and Mr. Austin appeared before Magistrate Leron Daly to face allegations of threatening language, causing harm and obstructing a person to go in the area they want to go among other charges.
Both Broomes and Austin both pleaded not guilty to the charges and were released on self-bail.
 This matter is set to continue on August 31, 2020.
The two are accused of using threatening language against PPP Councillor Dion Younge after he was caught with signs that he had removed from in front of the former Minister's property.
Broomes was charged with causing bodily harm to Younge who claimed that he was hit by her and the Police also filed a discharging a loaded firearm charge against her bodyguard although no spent shells were found in the area it is claimed he discharged the firearm.
It was the day after the swearing in of the new Government that Younge and another man turned up in front of the home of Broomes removing signs from an area she maintains for the neighbourhood.
Broomes and her bodyguard gave chase behind the men and that chase ended in the Sophia area where the men emerged from their car with the broken down signs and were surrounded by residents.
Broomes and Austin are being represented by Attorney at law, Nigel Hughes.