Just days remaining before the 2016 National Budget is put to a vote in the National Assembly, the government continues to face calls for a review of its proposed tax structure.
On Monday, the same day the 2016 budget debates commenced in the House, the Auto Dealers Association of Guyana issued a statement offering an analysis of the impact of the proposed tax measures and lobbying for a review.
The body said while it wishes to support the government on its vision of a green and clean Guyana, it must also stress the importance of the auto industry.
It raised objection specifically to the government proposition to reduce the taxes on 2012-2016 vehicles with a 1500cc engine to approximately 68% Import tax, to reduce the taxes on 2013-2016 vehicles with a 2000cc engine to approximately 85% Import Tax and restrict the importation of all motor vehicles older than eight years.
"We recognize that with time, changes will occur and one such change is the duty system that was proposed. However we truly hope that the eventual changes will strike the appropriate balance between revenue earner and affordability for the average customer," the statement reasoned.
The Dealers' Association said the planned restriction on the sale of vehicles older than 2008 will have a huge impact on vehicle prices and affordability.
To make its case, the Association explained that the most selling, stocked and affordable vehicles in Guyana range between the Years of 2002 to 2010.
It believes that with the proposed restriction, Guyanese will no longer be able to purchase a vehicle for less than three million.
"What is also worrying is that the majority of the customers that purchase the 2002 to 2007 models, do so based on Auto Financing either via Bank Financing or Dealer Financing and in most cases these customers barely qualify and barely make the necessary payments, and now to ask them to increase the acquisition cost to three million upwards , will either make it too expensive for them to afford or force them to sacrifice financial resources from other key aspects of life in order to afford a vehicle which has become a necessity for many."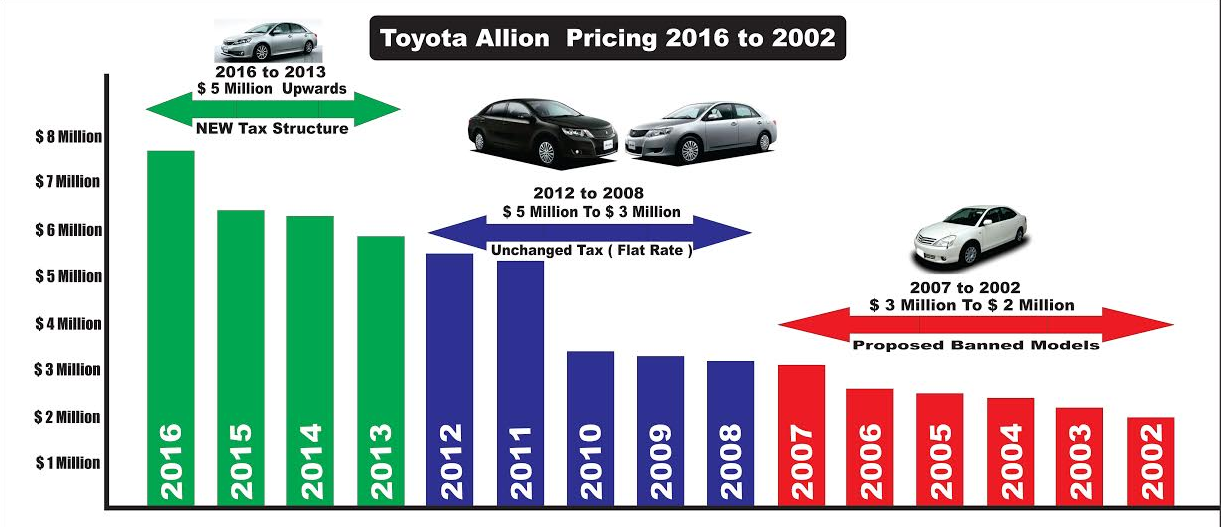 The restriction is also likely to impact on buses, pickups, trucks and canters which offer transportation services to members of the public, the statement added.
"We the Auto Dealers Of Guyana respectfully ask that the tax structure be reconsidered so that the perfect balance can be found between revenue earner , newer models and affordability , We also suggest that discussions be held with the Auto Dealers , Government and All Stake Holders to find the perfect balance that meets the needs of all."
The Government is trying to encourage Guyanese to buy cars with smaller engines and as such they will attract the lower taxes.