Hundreds of mourners lined Carmichael and Middle Streets and the Parade ground to bid farewell to the one man protester Courtney Crum-Ewing, who had little company as he stood for weeks outside the Legal Affairs Ministry demanding the resignation of the Attorney General Anil Nandlall.
The 40-year-old Courtney Crom-Ewing was gunned down, execution style last Tuesday in the Diamond community as he used his loud hailer to encourage residents to vote the PPP out of office. No one has been arrested or charged in connection with the murder. Two young men who were held for questioning have since been released.
On Wednesday (March 18, 2015), Crom-Ewing's old classmates and school mates from Queens College along with his old "squaddies" from the Guyana Defence Force joined hundreds ordinary citizens and opposition political leaders to remember the "nationalist" who stood his ground for injustice and who was shot down while pushing for change.
The casket bearing his remains was draped with the national flag as he was referred to as "Guyana's true  hero". At the top of the casket, a loud hailer was placed as a tribute to his voice for change and justice. A loud hailer was the only weapon he ever used and it was what he was carrying with him when the unknown gunmen shot him dead.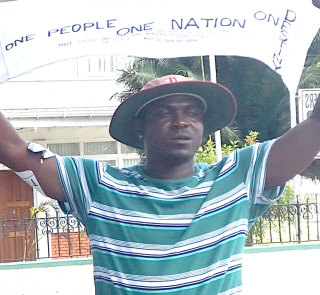 At the Parade ground, his father told those gathered that his son's death should not go in vain. He pleaded that the funeral service must not be the last memory of Courtney Crum-Ewing. He said his son was a fierce fighter for justice and always stood up for what was right. He said others must take up his battle and continue on with pushing for the change they want to see in the Guyanese society.
Political Activist and Leader of the Independent Party, Mark Benschop said Guyanese must understand that it is still okay to stand up and seek justice for what is right. He said "what Courtney did was basically was what thousands of people were not brave enough to do and that was to stand up against injustice".
He said that he wishes Crum-Ewing had gotten more support and protection from other citizens and the other opposition parties during his protest sessions.
Georgetown Mayor Hamilton Green reflected on Crum-Ewing's life and his search for justice and change. He too said that the man's death must not end his calls for change. According to the Mayor, he has decided to rename the block where Crom-Ewing stood many days protesting, Courtney's block in tribute to the "justice seeker".
At the Church service in Albouystown, Attorney and AFC Chairman Nigel Hughes also said that Crum-Ewing's voice must not go down and be silenced. He said the loud hailer had now become the most dangerous weapon against injustices.
Retired Chief of Staff of the Guyana Defence Force, Major General Joe Singh also spoke at the funeral service and said it would be naive for someone not to see links between Crom-Ewing's murder and recent events in the country.
In a letter to the press, Singh had called for all political parties to condemn the activists murder.
Meanwhile, international human rights group, Amnesty International has called for a full and thorough probe into the execution of the political activist. The group also called on the Guyanese authorites to guarantee a favourable context and peaceful atmosphere for the peaceful exercise of freedom of expression, association and assembly and other civil and political rights.
Filed: 18th March, 2015