Dynamic Airways has declared that the "hard and challenging days" which plagued the airlines in its early days of operations are over, as it celebrates its first anniversary in Guyana.
Airline officials have disclosed that the carrier is now transporting hundreds of Guyanese between Georgetown and New York on a weekly basis with little or no hiccups.
Managing Director of Roraima Airways, Capt. Gerry Gouveia told media operatives during a Thursday  brunch that the "hard days are behind us."
"You are not hearing anything about us in the news now because everything is going smooth, the only time you hear about us in the news is when things are bad," Gouveia added.  
He explained that the Airline transported more than 1,500 passengers between the Cheddi Jagan International Airport (CJIA) and the JFK International Airport on 92 on schedule flights during the last quarter.
Gouveia believes the airline is slowly emerging as a leader in the local aviation sector with most of its performance scores pegging in the high 90's.
He said approximately 200 passengers are transported on almost all flight days without interruption.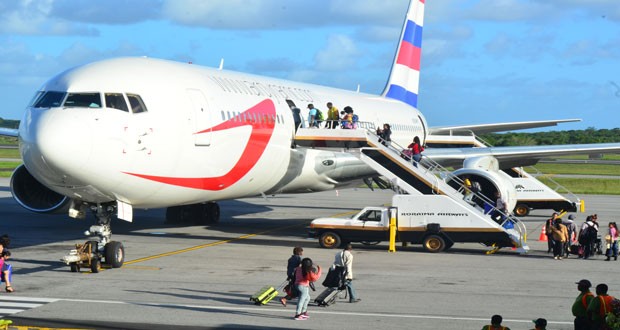 Dynamic Airlines is also taking credit for contributing significantly to the stable airfares Guyanese now enjoy and company officials say they have every intention to keep the fares stable during the upcoming summer peak season.
A number of Guyanese are currently serving the airline as flight Attendants while Roraima Airways is tasked with carrying out ground handling services.
Meanwhile, Dynamic Airlines' Captain Lawrence Skinner assured that the company was looking to foster a long-term relationship with Roraima Airways and Guyana.
"We look forward to many years of service," he said as he announced a doubling in the airlines' fleet.
Dynamic currently operates five weekly flights out of Guyana and is in the process of adding an additional flight.
The Airline believes it can replace the void left by Delta Airways even as it considers expanding to other locations.
Dynamic Airways ran into some on the ground turbulence during its inaugural flight to New York on June 27, causing hours of delay and missed connecting flights for its passengers. The airline was forced to put its service on hold until it was able to regularize its operations.  (Kurt Campbell)