The Guyanese owned carrier, Fly Jamaica Airways, is hoping that it will be able to bridge the traveling gap between members of the diaspora and Guyana and Jamaica.
The airline opened its new office at 1397 Nostrand Avenue in Brooklyn on Thursday evening and believes the move is an important step in its expansion drive.
Chief Executive Officer of the Airline, Captain Ronald Reece, told those gathered at the opening ceremony, that an aggressive marketing campaign is to be launched to remind persons in the diaspora to return home for a visit. His daughter, Kayla Reece, will be heading that marketing drive.
The new marketing strategy will promote cultural events in Guyana and Jamaica and will offer packages for "persons to go back and enjoy the pleasures of the Caribbean".
Fly Jamaica owns two aircraft, a Boeing 757 and a Boeing 767. It currently has flights between New York, Guyana, Jamaica and Toronto, Canada.
Guyana's Conul General in New York, Barbara Atherley, attended the opening ceremony and praised the airline for already bridging the travel gap between Guyana and Jamaica. She reminded of the days when a trip from Guyana to Jamaica appeared more like a mini-bus ride because of the many stops. Now Fly Jamaica offers direct service between the two destinations.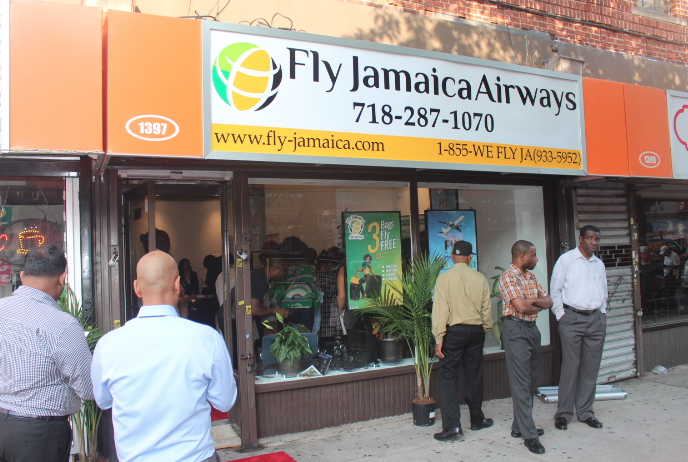 She also praised the airline for holding on to its corporate responsibility in all of the countries that it serves. The Consul General said Guyana will continue to support the efforts of Fly Jamaica.
The Vice Jamaican Consul in New York also shared similar views and offered the continued support of Jamaicans at home and abroad.
Fly Jamaica already operates an office in the Queens Borough, but the opening of the Brooklyn office is expected to introduce the service being offered to a wider community.