The Guyanese law firm, Hughes, Fields and Stoby, has made contact with Houston, Texas and is looking to bridge the gap for those US companies that will be looking for investment and other opportunities in Guyana as the oil and gas sector takes off.
On Friday, the company hosted a reception at the Guyana Marriott to launch the opening of its law office in Houston, Texas.
Managing Partner of Hughes, Fields and Stoby, Attorney Nigel Hughes, explained that as Guyana gears up for the oil and gas sector and many potential investors, his company will assist those investors with the expertise they might need to navigate doing business in Guyana.
He announced that "from legal representation right through to assistance with the appropriate business protocols and linkage to a network of officials in the public and private sector, a client's every need is attended to in ensuring the doors to doing business in Guyana are easily and readily open".
Mr. Hughes further stated that before a potential investor even arrives in Guyana, his law offices will be on hand in Houston to guide clients and potential clients through the process of doing business in Guyana and building business relations.
The company intends to order a range of services, ranging from setting up incorporations, labour advice, investment advice, provision of webinars on doing business in Guyana to expatriate orientation and direct business-to-government contact.
Hughes, Fields and Stoby will be partnering with American Attorney, Greg Clark, who will lead and oversee the Texas operations. Clark has worked for years in the oil and gas sector around the world and has even been at the forefront of legal guidance when US businesses started to set up operations to deal with Qatar's oil industry.
He said he wants to see the new contact serving as a portal for new companies looking to develop business ties in Guyana, including other oil companies.
"I like to call it 'legislative watchman' that the firm will keep their eyes out for every law, rule, regulation or policy that could impact our clients,' Clark said.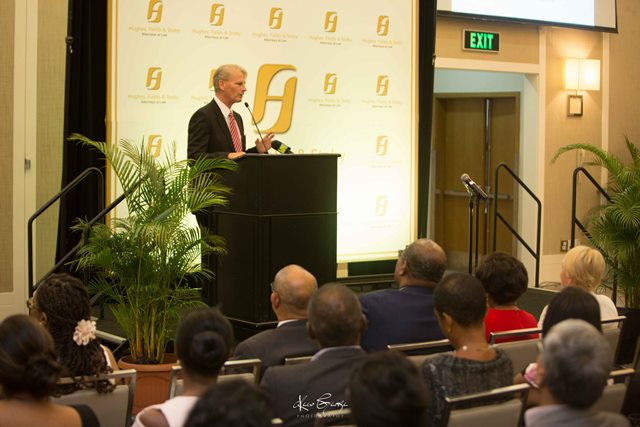 With its partnership with Access Point, the company of Hughes, Fields and Stoby has indicated that it has become the first legal and business protocol firm locally to have a presence in Houston.
At the launching also, Head of the Department of Energy, Dr. Mark Bynoe, welcomed the announcement and investment opportunities. He outlined the work of the new Department of Energy, which was set up back in August, and also noted that Guyana must improve its systems of governance and transparency, inclusive of public procurement to reduce the potential for downstream leakages associated with petroleum revenues.
He said his Department is keen to ensure that the systems of transparency and governance remain wholesome "for all to have an equal opportunity to participate".
A number of Government officials and members of the Diplomatic community were among the guests at the launch reception.
The Hughes, Fields and Stoby Law Firm also used the event to announce the full law scholarships in the name of its founder, Clarence Hughes.
The scholarship recipients for this year are Law students, Shawn Shewram and Paula Gomes.  Both are attached to the Law Firm as interns.