As Friday's above normal high tides slammed and breached parts of the West Coast Demerara sea defence, the Hydromet office is reporting that the spring tide phenomenon could remain until Tuesday with more above normal high tides expected.
The Leonora Cottage Hospital had to be closed down and patients moved as flood waters rushed into the facility on Friday morning. Members of the Fire Service assisted in pumping the water out of the hospital and cleaning up.
An assessment conducted by the Civil Defence Commission found that thirty-two households were affected by the floods that followed the overtopping. At least one poultry farmer reported that he had lost over 100 chickens.
The flooding also affected as far as 3 blocks in Ocean View Uitvulgt. (This area has 4 blocks between the seawall and public road).
According to the Government's Department of Public Information, the wave was reported to be in excess of 25 feet high and travelled a distance of in excess of 50 feet to the roofs of homes. This event happened at approximately 03:30 hours on Friday morning.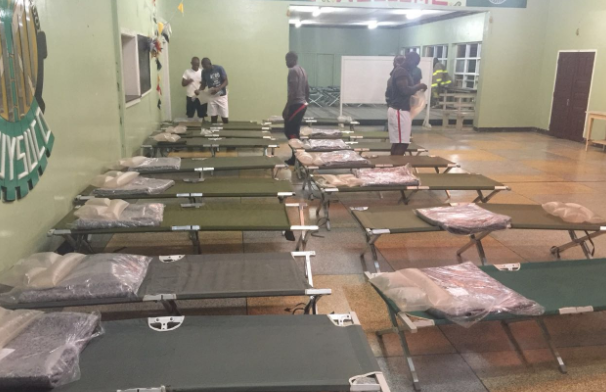 Emergency Shelters have since been established at Uitvlugt Community Centre and Uitvlugt Secondary School.
The CDC has since provided 100 camp cots, 100 blankets, 100 pillows, cooking utensils and meals.
Hot meals will be provided for the affected.
The CDC is also preparing sanitation/cleaning hampers for subsequent distribution.
With the Leonora hospital being temporarily closed, a decision has been taken by authorities to have the Health Centers at Den Amstel, Uitvlugt Community Center and De Kindren, used to address medical emergencies. The Health Centers at Den Amstel and Uitvlugt are now operating on a 24 hour basis.
Government Ministers have been in the affected areas assessing the impact of the spring tides and the flooding.
The Guyana Police Force has also increased its patrols in the areas affected by the floods.
Meanwhile, the Government has announced that the Uitvlugt Secondary School will be closed on Monday and Tuesday, as it is being used as a temporary shelter for the flood hit residents.