Pandit Ubraj Narine received the full support of his party, the APNU, and was today elected as the new Mayor of Georgetown, just after being sworn in as a Councillor.
Councillor Alfred Mentore, who is also from the APNU, will serve as the Deputy Mayor. The two will officially take office from January 1, 2019.
Both men received the APNU's full support for the positions. Longtime Councillor, Oscar Clarke will serve as the Chairman of the Council's Finance Committee, while outgoing Mayor, Patricia Chase-Green, will be his Deputy. Five other persons will serve on that committee.
The APNU holds a 21 seat majority on the 30-member council. The PPP has seven seats and the AFC won two seats.
In his first address to the Council as Mayor-elect, Mr. Narine said as a representative of Constituency One, he lives in the city along with his family and he would like to see the Council work in consensus to bring about development to the nation's capital.
"Our home must be welcoming to visitors and neighbours near and far. Our home must be safe and the affairs of our home managed in an honest, transparent and fair manner. My vision of our home of Georgetown, I am sure coincides with your vision for it. Thus, we must speak to each other and reach across the aisle of politics, race, religion and creed and engage our thoughts and arrive at a consensus", he said.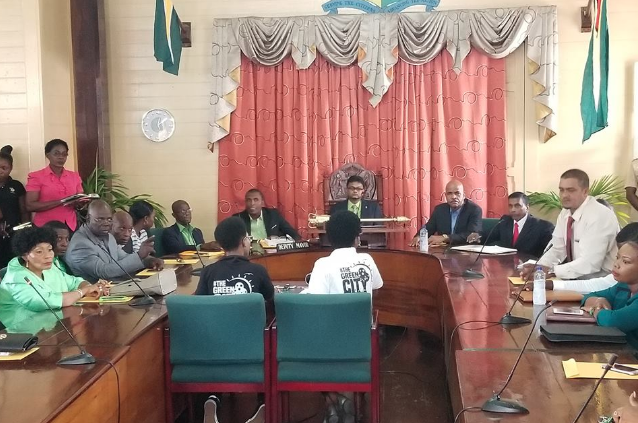 The new Mayor noted that there must be the need to protect the environment and to ensure residents are given excellent service. He said the City will have to address its many challenges, from its management to getting tax payers to pay up their rates and taxes.
Mr. Narine also told the new Council that he intends to work with each of them to ensure the challenges are overcome and progress could be advanced.
Narine said "I endevaour from this dawn of my tenure to be the Chief Citizen of Georgetown, leading by example for the good of all".
The APNU members of the Council stood and cheered loudly for the new Mayor as he explained his plans.
Other Councillors stood and offered their support of him in the effort to move the municipality forward. He also received best wishes from the City Council administration and the Association of Local Government body.
Pandit Ubraj Narine, who is a member of the People's National Congress, is married and has one child.