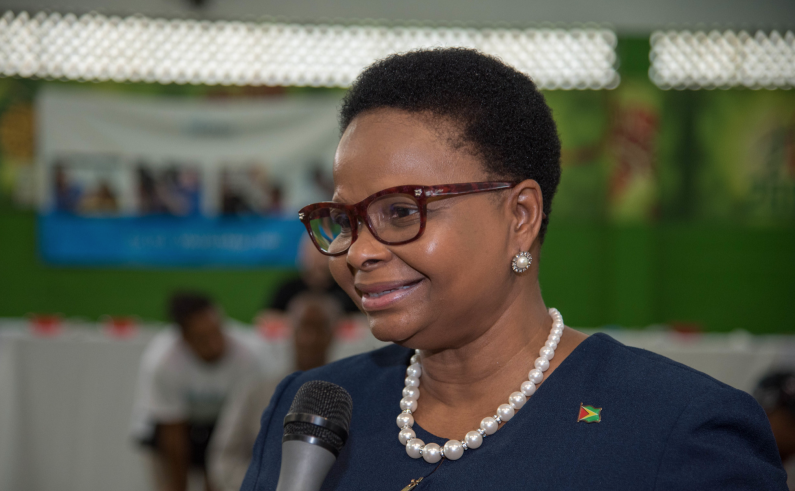 Already facing private criminal charges filed by People's Progressive Party Member Charles Ramson Jr. in relation to alleged fraud at the March elections, Chairperson of the People's National Congress Reform Volda Lawrence will face new questions by the Guyana Police Force as part of its probe.
The Guyana Police Force has indicated that it intends to put allegations to Lawrence during questioning as it continues its probe into the allegations of electoral fraud.
Lawrence was initially invited to meet with the Police on Saturday, but is now likely to meet with investigators on Monday morning.
Lawrence is the Chairperson of the largest party in the APNU+AFC Coalition.
In a statement on Saturday, the coalition called the attempt to question Lawrence about electoral fraud, "harassment".
The coalition said it is becoming clear that there may be a plan by the Police to detain Ms. Lawrence as others have been detained previously.
"This latest devious and abominable action by the PPP regime further crystallizes that they are horrified and frightened by the APNU+AFC Coalition's elections petitions which they know they will lose and will result in their removal from the government which they temporarily occupy. They are attempting every desperate tactic to thwart the hearing of the election petition", the Coalition said.
The Coalition also believes that the latest action by the Police is part of a plan to incite its supporters and cause public mischief.
"The APNU+AFC Coalition warns all Guyanese, CARICOM, the United Nations and the international community that Afro-Guyanese are under attack in Guyana from the PPP regime and that they have weaponized the Guyana Police Force against the APNU+AFC leadership, activists and supporters", the statement added.
The Coalition warned that the PPP government could face retalitory measures if it does not desist from its actions to intimidate senior party officials and supporters.
Just on Friday, the coalition said there appears to be a deliberate attempt by officials of the Guyana Police Force and the governing party to dismantle the current make-up of the Guyana Elections Commission.
A number of senior officials of GECOM are already before the Court on various charges related to electoral fraud and misconduct in public office.
Most of the charges stem from private charges that were first filed by agents of the People's Progressive Party.