Forty-four year old, Lavern Newton, is tired of the abuse at the hands of her ex-lover.
They were together for 25-years and now she is ready to move on, but the man, David Sardinha, is refusing to let her go in peace.
Lavern, who lives in D' Field, Sophia, has two slash wounds to her face that she will take to her grave. In addition to those marks of the abuse and violence that she has endured, both of her legs are now bandaged after the man attacked her recently with acid.
She recalls that on the night of October 7, she was walking home after selling for the day, when the man appeared with the corrosive substance.
"I was just about turning into the bridge and I see this person coming with allover black and when I look good, I saw the person opening this bottle, so I start to run away and he came running behind me and he started to throw this liquid on me. I ran down the road and started to holler out for help. People came out and he ran away from the scene. But I was already badly burnt to both of my legs", she explained.
Three days later, the woman said the man appeared again, but this time he remained "a good distance away", looked at her, then rode off on a motorcycle.
That was the last time she saw him, but she said, he has been calling her ever since then with threats to kill her.
"This has been going on for too long, I am tired and I need help. This man has beaten me, he has raped me, he has cut my face and now he has burnt me with acid, I've had enough and the Police or someone needs to help me", the woman told News Source.
Lavern said the man was even bold enough to call and threaten her while she was in the Police station filing a report, but the Police have not been able to find him.
"The Police gave him the name Flash Gordon, because they could never locate him", she said.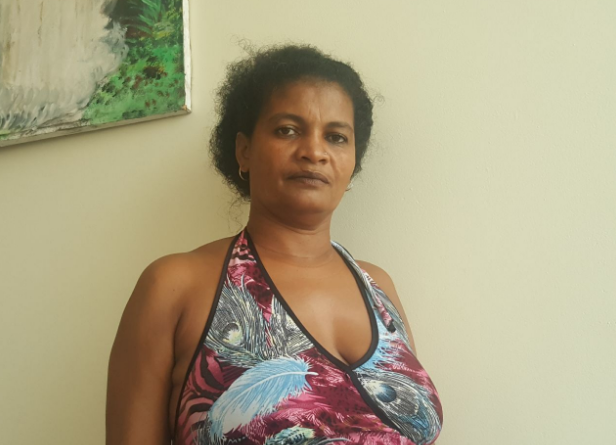 Lavern recalled that the first time she was ever abused by the man was in the early 1990's and the abuse continued for several years.
"Back then, he use to beat me with cutlass and threaten me when I was selling and he also use to lock me up in my house for days".
Lavern has been in the food selling business for as long as she has shared a relationship with the man.
She makes pastries and other food items, and with an old baby stroller, she spends hours walking and selling those food items. She has now been forced to put her business on hold because of the ongoing pain from the acid burns.
"Making pastries and snacks is what I know and this is what I have been doing for me and my children, but the man wants to even destroy that", she said, while noting that her small business was what maintained the family for years as the man was in and out of different jobs.
While grimacing in pain from the acid burns, Lavern complained that over the years, whenever she would get help from someone to assist with her business, the man would attack her and destroy whatever she was given.
"When someone gave me a bicycle to help me to get around to sell, he destroyed the bike, break up the stove, the cooking things and even cuss out my customers", she said.
The Sophia resident is the mother of five children, ranging from age 6 to age 27.  Four of those children still live with her. The eldest child has been living on his own.
With tears building up in her eyes, Lavern Newton said one of the most abusive things she has ever faced, was being raped by her ex-lover in front of her children.
According to traumatised woman, "this man would beat me up and in front of my children, he would rape me, he would force me to have sex with him and my children were right there. That broke me into pieces, but I am strong and I want to move on for them".
But she believes the Police could have done more to help her.