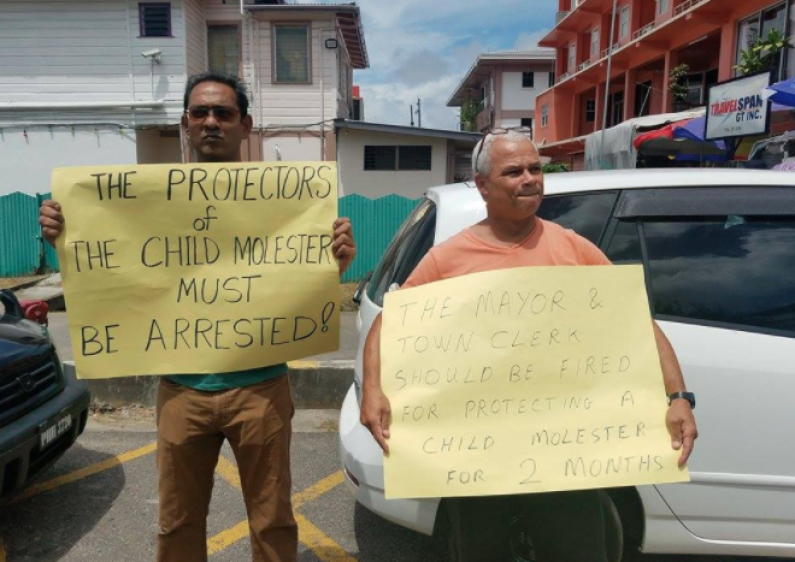 Amid growing public outrage over allegations that a Constable attached to the Georgetown City Constabulary sexually molested a teenage boy who was in custody, two city residents staged a picketing exercise on Thursday calling for the "protectors" of the child molester to be arrested.
The two men, Don Singh and Johnathan Yearwood explained that they believed that the protectors were Town Clerk, Royston King and Mayor Patricia Chase-Green, who they believe should be investigated as an accessory to the crime.
"For two months the Mayor and the Town Clerk sat on a report of a child rapist and did nothing […] until it was raised on social media then something happened," Singh said.
Two days ago, the Council announced that the constable has since been fired and handed over to the Police. The City Council carried out its own probe of the matter after the incident came to light.
But the two men who protested today, believe the Mayor and the Town Clerk should have acted swiftly to the claims by the teen and an account by an eyewitness.
"Why are they protecting a rapist and that's what he is, a rapist and we are asking that they are arrested as an accessory to the crime because it is the duty of every citizen to report a crime when you see it."
According to reports, the constable was caught in a sex act with the teen, moments after the teen was taken into custody for loitering on August 18th, 2017. He was initially taken to the Bourda lock-ups.
With new attempts to institute wandering charges, the young man was taken back to the outpost at City Hall and forced to participate in sexual activity with the Constable.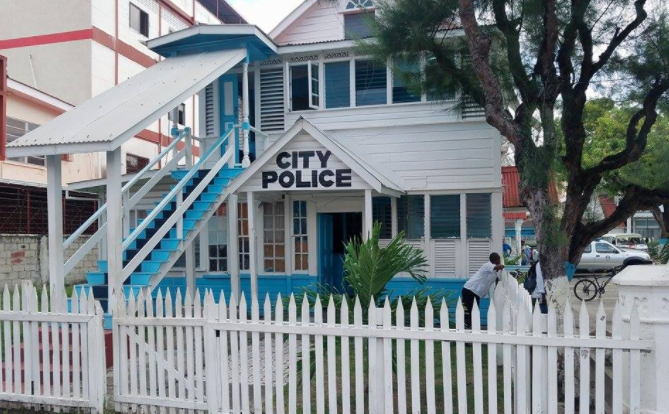 Another Constable who walked in and reportedly witnessed the sex act has also been fired.
He has been reportedly fired because he did not immediately rescue the teen and never bothered to log the incident into the duty book. It is alleged that filed a complaint about the issue more than a day later.  
The teen has since been taken into the protective custody of the Child Care and Protection Agency. And the incident has caused a major embarrassment for the Georgetown City Council as it came under attack for not moving fast enough to act on the complaint.