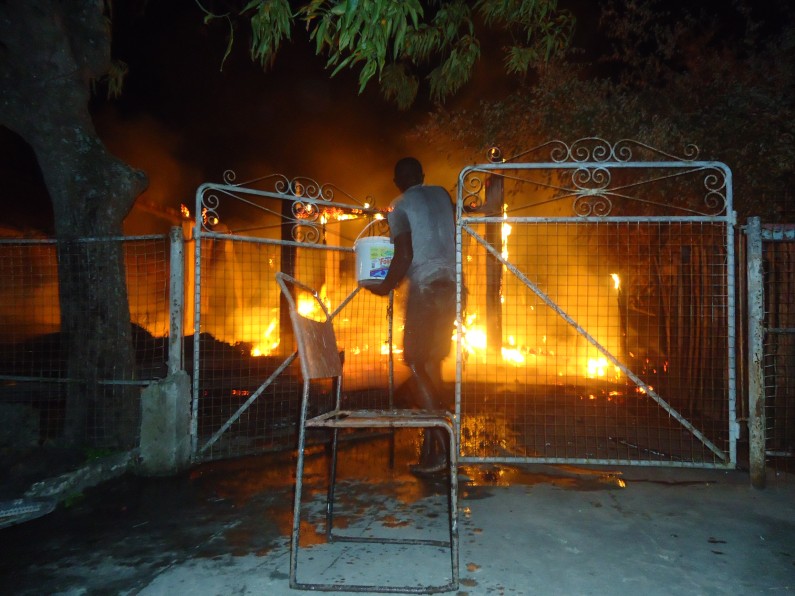 Heavy winds from the Atlantic Ocean aided a Saturday night fire which ripped through a two storey house at Triumph on the East Coast of Demerara leaving seven persons homeless.
The fire service was called to the scene of the Surat Drive, Triumph blaze just after 8 o' clock as neighbours and the home owners made a failed effort to put out the blaze. One of the occupants of the house Sarah London said she had just left home to get her hair braided when she got a call that her home was on fire.
She said she rushed back home to ensure that her children were safe. They had already been evacuated from the burning building.
The 38 year old woman explained to News Source that there were several power outages in the area on early on Saturday night and she is convinced that the electricity supply problems may have triggered the blaze.
Her brother and his family live in the upper flat of the building. They were all forced to hurry out of the house as the fire moved quickly through the home.
The fire service arrived with three large fire tenders but there was very little the fire fighters could do initially, as they faced problems accessing water form a nearby trench. The trench is overtaken by vegetation and garbage.
Residents in the community loudly voiced their anger over the situation as some blamed the fire service for not being better prepared while others blamed the Regional Democratic Council responsible for the area for not ensuring trenches and canals in the community remain clean and clear.
While residents bickered over the fire service and its response, a distraught Sarah London hugged her cousins as she broke down into tears. She explained that she has only been living in the area for three years.
The house was a gift to her and her brother from their father who resides overseas and wanted the family to remain close in Guyana. She said she was not sure how she would be able to break the news of the tragedy to her father.
The blaze was contained to the one house but it scorched the nearby Triumph Assembly of God Church. Members of the community rushed into the Church and were able to save a number of the Church's belongings.
The sound system, pews and even the church's drum set were all taken out and placed on the roadside as the fire threatened that building.
The fire never made it across and residents whispered to each other that it must have been an act of God since the Church is located just next door to the house that was gutted.
The two families that occupied the house were unable to save much but appeared thankful that they still had each other in the aftermath of the tragedy.
 (Filed: June 1, 2013)