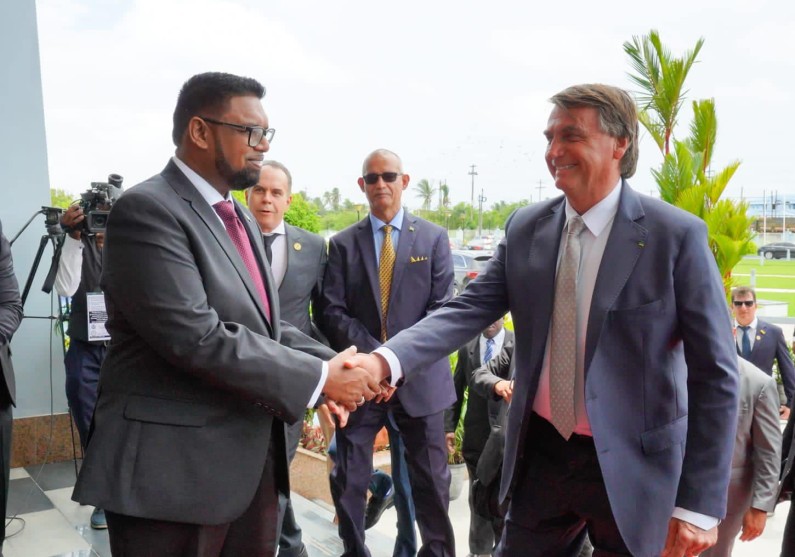 Guyana and Brazil today signed two treaties to develop areas of cooperation between the neighbouring states.
The agreements were signed during the one-day visit to Guyana by the President of Brazil, Jair Bolsonoro.
One of the treaties will see the parties offer advice on civil matters, which will include civil, labor, and administrative law, as well as criminal sentences.
The other treaty strengthens mutual cooperation in criminal matters which will see the two Governments providing assistance to each other in connection with the investigation or prosecution of criminal offenses including the restraint, seizure, or confiscation, along with the disposal and the return of assets.
The Ministries responsible for public security and justice in Guyana and Brazil will spearhead the treaties.
President Irfaan Ali said today was a good day as the two sides were able to further elaborate on areas of focus for the future of both nations.
"We have the opportunity to further elaborate and concretized an action plan moving forward in four areas. Food and Security, not only from a Guyana Brazilian perspective but a CARICOM perspective; the issue of energy and energy security; infrastructure and the integration of infrastructure; Security, National Security and Defense and Trade Arrangements"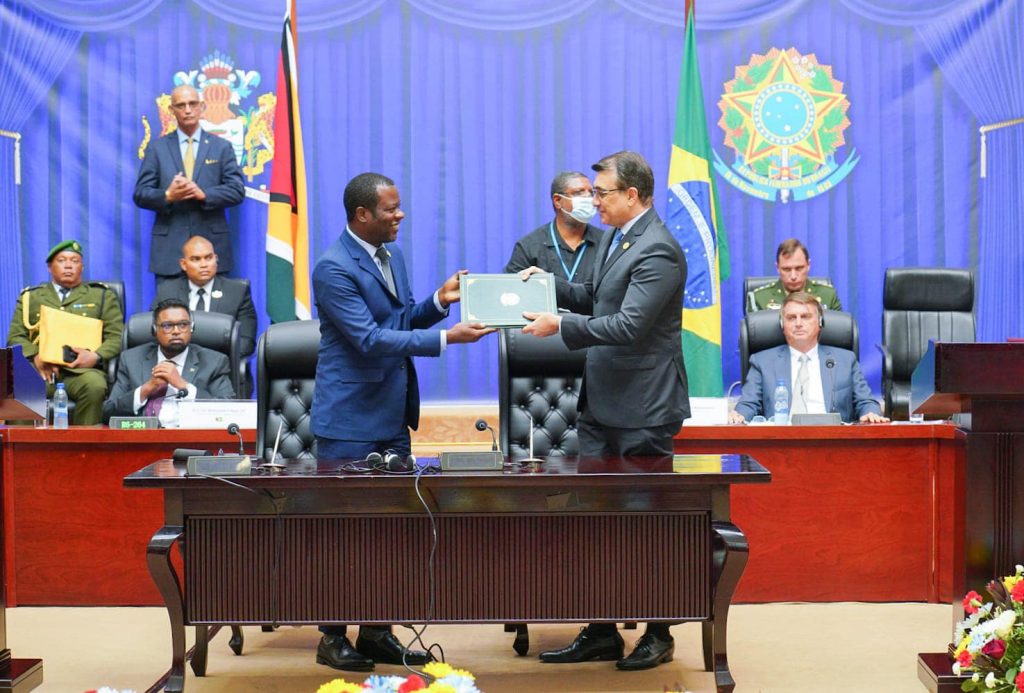 In the discussion, President Ali pointed out that a deep-water port, fibre optic services, development of an energy corridor, national resource development, and the road to Brazil were also discussed.
Brazilian President Jair Bolsonoro said Guyana and Brazil share mutual areas of interest but he is pleased that Guyana seems set to move many of the agreements forward.
"Our visit here has been very promising to our country and our people. Guyana has a bright and promising future, especially given its oil and gas potential and also how your Government has fostered closer and closer ties with Brazil. We stand as partners and I'm quite certain fruits will be reaped as a result of this visit", President Bolsonoro said.
President Irfaan Ali also said the Guyana Government will be moving swiftly to establish working groups to address the agreements reached.
"My work style as the President of Guyana is very similar to his own style; we want to be objective and straight forward and we are going to establish a working group properly so that solution can be able to surface."
The Brazilian President has indicated that he will push the Brazilian private sector to develop closer trading ties with Guyana. He has also promised to further strengthen the cooperation and ties between the two countries.