The upcoming Diaspora conference will be seeking to strengthen ties between Guyanese abroad and their homeland. It will offer investment and business opportunities as well as various initiatives that benefit re-migrants and investors.
Foreign Secretary Robert Persaud today said there is a need for members of the diaspora to play a key role in aiding Guyana's national development.
According to Mr. Persaud, the government "is committed to strengthening relations with the diaspora and is pursuing its involvement in the country's transformational and developmental agendas. It is well documented that the Guyanese diaspora is highly skilled, patriotic and have a great desire to contribute".
A number of Government officials including the President and Vice President will make presentations and engage with participants during the virtual diaspora conference.
Foreign Secretary Persaud said the conference will be an engaging one that will also be results oriented and not another talk shop.
"We expect from this conference to use the feedback so that it can impact on the government plans to further engagement. And it will allow our new unit, the Diaspora Unit in the Ministry of Foreign Affairs to be much more responsive and focus on the needs of the global diaspora. It is envisioned that the conference will help to assure the diaspora of the Government's commitment to fostering a deepened and sustained relationship to allow their participation in the country's development", Persaud said.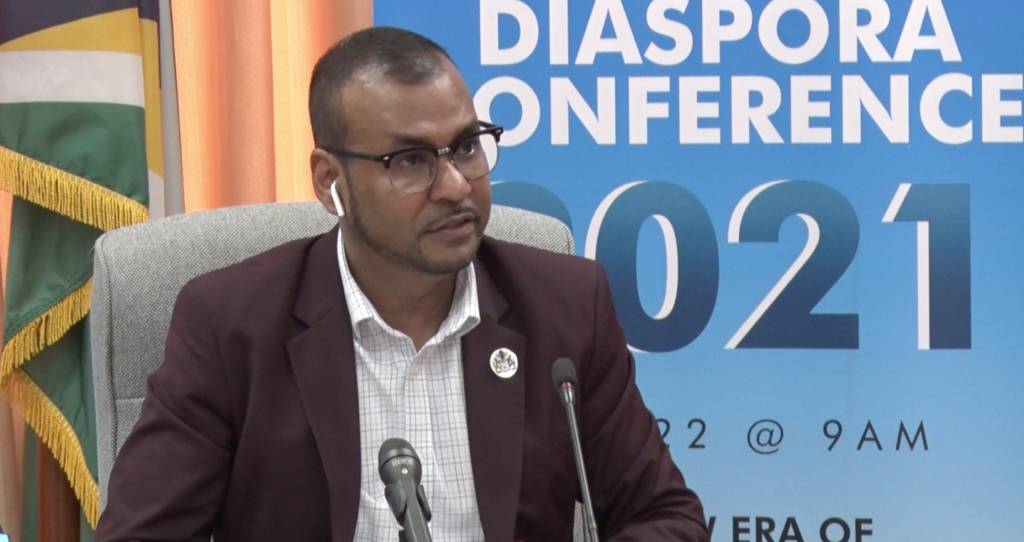 The conference which is set to take place on the 22nd May will also see participation from a number of government agencies including GO-INVEST and the Guyana Revenue Authority. A number of Foreign Missions in Guyana are also expected to participate.
The Foreign Affairs Ministry is hoping to see as many as 1000 groups or persons participating in the virtual event. More than 500 have already registered. Information on the registration process is available on the Ministry of Foreign Affairs website and social media pages.
Over the years, there have been several efforts to engage the Guyanese diaspora on issues of national development. The last government had also hosted a diaspora conference.