A Minister of Religion attached to the Church of Jesus Christ in Linden was critically injured after he lost control of the motorbike he was riding and slammed into a car that was heading in the opposite direction.
The accident occurred just before 6pm on Sunday on the Linden Soesdyke Highway close to the Amelia's Ward Bridge in Linden. The Pastor's name has been given as Cy Walker.
According to eyewitnesses Pastor Walker was heading in West along the busy roadway in the direction of Amelia's Ward when he reportedly pulled aside from a vehicle that was in front of him. He lost control of his bike and ended up in the path of a white Toyota Allion motor car being driven by UK-based Guyanese Dexter Leander.
Leander had just arrived in Linden from Georgetown in the rented vehicle. Leander said he noticed when the man pulled out from the vehicle and lost control of his bike and was heading straight towards him. He said he tried to avoid the collision but "it all happened quickly". The impact sent the pastor and his bike, pitching into a nearby trench.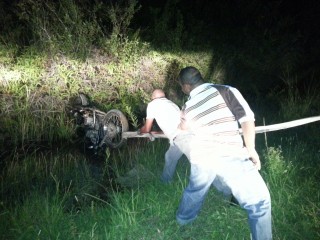 He was pulled from the trench and rushed to the Mackenzie Hospital in a semi conscious state with swelling to his face and upper body. He legs also appeared to have been badly broken. Members of his church gathered at the hospital to offer prayers and support to his wife. Hospital sources said the medical team on duty was preparing to transfer Pastor Walker to the Georgetown hospital on Sunday night. The driver of the car was unhurt in the accident but was visibly shaken. He had travelled to Linden for the Town Week celebrations.
The Police traffic department in Linden is probing the accident.